INNOVATION DAY
E cell of MITAOE has celebrated "Innovation Day" on 15th October. 2019. Huge response was observed from MITAOE student, All participants have enjoyed session and competition.
Dr AVUL PAKIR JAINULABDEEN ABDUL KALAM
It was our former President and renowned Dr A P J Abdul Kalam's birth anniverary and we had all gathered to celebrate this auspicious day on 15th October 2019 . Brought up in mediocre family, Dr Kalam's principles were inherited from his parents. He had an exceptional interest in Mathematics and hence joined the Aeronautical Department. He was later transferred to ISRO and on June 2002, he was declared the 11th former President of India by NDA. He was also awarded the Bharat Ratna, Padma Bhushan, Padma Vibhushan and many more.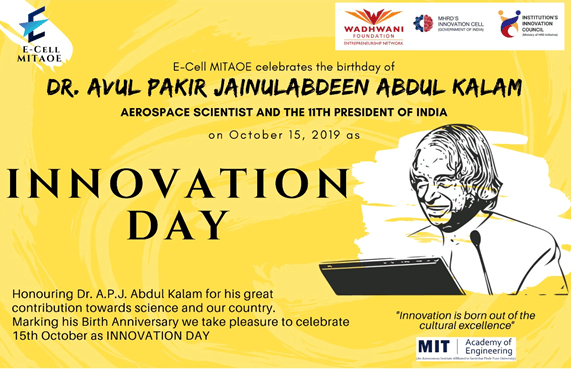 "Thinking is the capital, Enterprise is the way and Hard work is the solution."
-Dr A.P.J Abdul Kalam
WORKSHOP ON INNOVATION & STARTUPS
Participants: 63
Time & Venue: 1:15pm to 3:00pm, Seminar Hall, MITAOE
Expenditure: 2000/- and Inhouse resources
Guest Speaker: Dr. N.S. Babu
(Adjoint professor at MITAOE, worked for ISRO in research 37 yrs)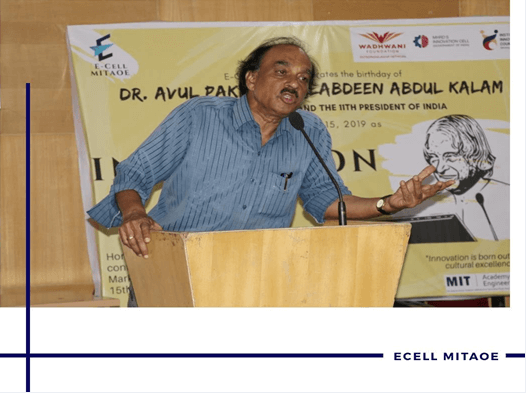 SHARING THE PERSONAL EXPERIENCE
Dr. Babu enjoyed the privilege of working with APJ Abdul Kalam during his tenure. Pioneers in ISRO of that times i.e. 1969 started their work with sounding rockets in church building. They used to carry the rocket's parts on a bicycle. Dr. Abdul Kalam took charge as the Project Director of SLV program when the space program was not going well. However, it was Dr Kalam, whose focused steps helped ISRO launch 4 SLV programs out of which 2 were successful. Abdul Kalam is a man of composites. He keeps interest and knows a lot about Vedas and we were fortunate to listen him talk. He sang a Sanskrit song on the occasion of Ganesh Utsav.
You will empathies with Abdul Kalam's work when he said "You need to read everything about the failures in life from successful people because it's only from the failures that we know how to come up and overcome our obstacles and eventually succeed in life. Failures are the stepping stones to success". Kalam also advises people by saying "Don't compare yourself with others or else you become unhappy. You should be always joyful"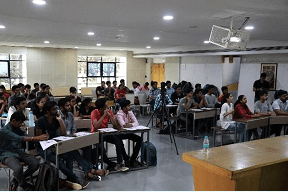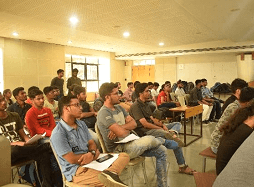 SESSION BRIEFING
Proceeding from the Introduction and few moments of Dr. A.P.J. Abdul Kalam, Innovation was explained with crucial examples and definition of the same. The change of era from 1800's to early 2000's which innovation took place was discussed. Ice Industry evolution from early 1900's to witnessing current refrigeration trends.
Evolution in Telecommunications and computers since the start of the era until today was also proposed.
Companies like IBM, Western Union, Digital Equipment Corp. created monopoly in their era but lost the vision and hence quoted, that were proven false.
"I think there is a world market for maybe 5 computers"
-Thomas Watson Chairman, IBM 1943
"The telephone has too many shortcomings to be seriously considered as means of communication. This device is inherently of no value to us."
-Western Union Internal Memo,1876
"There is no reason why anyone would want a computer in their home."
- Ken Olsen Founder, Digital Equipment Corp. 1977
Then came the man who founded Apple Computer Co. in 1976 the Founder And CEO Steve Jobs Who quoted:
"The people who are crazy enough to think they can change the world are the one who do"
-Steve Jobs, Apple Computer Co.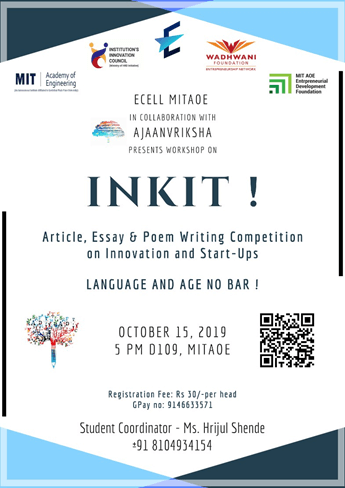 A writing workshop was conducted by Ajaanvriksha club in collaboration with E-Cell club with a vision to develop different writing skills and imagination of students. The Workshop began with Ms.Hrijul Shende's brief introduction of the college magazine 2020 named "Ad Astra Per Áspera" and Mr. Prashant Wagh briefing about innovation day and innovation as future of the world. Later a brainstorming session was held related to Technical writing by Mr.Avinash Kumar which was followed by a presentation on creative writing skill development by Ms.Satyata Dhargawe.
Various tips with illustrations were mentioned in these sessions which were quite helpful for the audience. Brief discussion on grammar topics such as transitive verbs, punctuation and many more were shared in the session.
The Workshop continued with a speech on innovation day and it's importance by Mr. Prashant Wagh. Later a writing competition was held for all ages and all common languages like English, Hindi. Topics and rules were briefly explained and time limit of one hour was allotted to the participants.
Topics were given on spot with respect to their respective languages. Innovation topics, technical topics and topics related to Regional languages were given.
Topics:
1. Innovation as an Instrument of Progress.
2. The role of Innovation in Start-ups.
3. Life is a Start-up.