Library offers an enormous range of services as follows
Computerization
Library uses SLIM21 software package which is an integrated multi-user, multi-tasking library information software that supports all in-house operations of the library. The software extends the facilities like Web-OPAC, Catalogue, Circulation, Utility, Serial Control, and Acquisition. The database of books available in the library is being updated on day to day basis. SLIM is upgraded continuously to meet the technological advances in the field of data storage, retrieval, user interaction and communications, library science. SLIM is user friendly, menu driven, and highly interactive software. Its powerful user interface feature like drag-drop makes its user feel very comfortable. SLIM21 is the latest generation of library software; it is a complete system that automates nearly every library task for us. SLIM21 is faster, easier to use and understand straight-forward software. SLIM21 is very exhaustive, and a lot of attention is paid to the details of library management functions in its design.
Reference Collection
The library maintains a separate reference collection consisting of encyclopedias, dictionaries, handbooks, data sheets, CD-ROMs, floppies, audio Cassettes etc. It is open to all its users. These books are marked by red inked letter "R" on its spine. Users may approach the Reference Desk" for information or any assistance.
We have 03 major Encyclopedias
Encyclopedia Britannica
McGraw Hill Encyclopedia of Science and Technology
Encyclopedia of Chemical technology Kirk – Othmer
Reading Hall Copy
Text books that are prescribed in the syllabus for different branches are kept separately in the reference section under Reading Hall Copy they can be identified with the Blue inked Letter 'R' on their spine . These books can be used within the library premises against institute I-Card.
Overnight Issue :
The library provides overnight issue of text books to its users. Only one book can be issued to a student against his/her I-card, for overnight use.
Book Bank Books
MITAOE library provides book bank facility from FY to BY students those belonging to Schedule Caste category. A set of around 05 books is issued among one or two students for a semester.
New Arrivals
A list of newly arrived text books, reference books, journals, magazines & CD's is displayed on the notice board for information and also send the same to all School deans by email.
Paper Clipping Facility
We provide paper clippings facility selected from the newspapers and magazines related to the interest of our institute .These Clippings send to Principal and persons related to the subject . We also display clippings related to the interest of students on the notice board.
Accessing CD-Rom & Video Lectures Series
We have a vast collection of CD's which amount to 5252 .To access these CDs we have allotted ten PC with the required specifications and a CD writer.
WwB OPAC
The database for the entire collection of books has been created and is available for search through Web OPAC (Online Public Access Catalogue). We have integrated digital library resources with WEB-OPAC to provide wider access and for the ease of the users. They can access Web-OPAC facility from anywhere, any time and from any device.
Web OPAC can also be accessed by scanning QR code or log on to http://115.248.168.115:82 to access the same
How to use Web –OPAC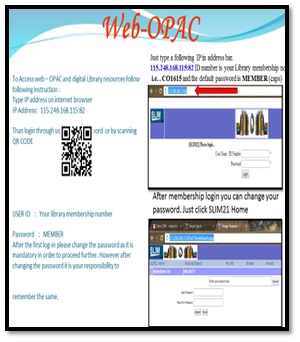 After login this page will appear. Here you can explore as per your requirement like my info, journals list, browse, latest 10 items and so on.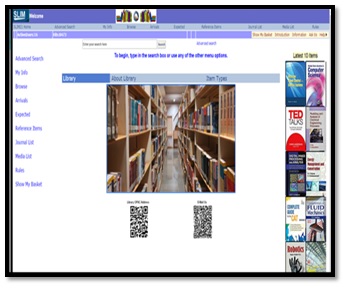 Users can check their account status by clicking on my info, they can see books issued on their account here.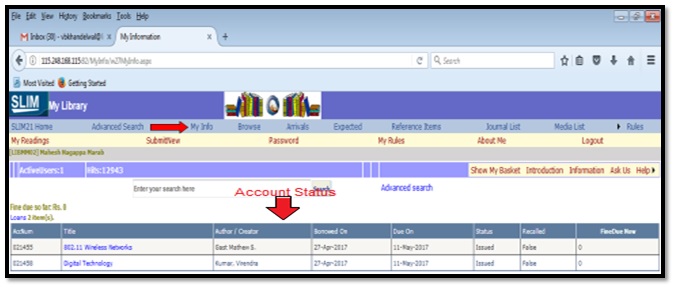 Book Reservation Facility
The books which are already issued to readers can be reserved at the circulation or reference counter. One user can claim maximum 01 book at a time, the claimant will receive an SMS when the book is available in the library you have to collect the book on the same day.
Value Added Services
Display weekly top five users on the notice board
Display monthly top 10 books issued by the users
Provide current awareness service to students and faculty members
Users' orientation program for students.
To Send SMS regarding Overdue books to defaulters and about reserved books by users.
Display guidelines, shelf list and information board
Affixed motivational quotes
Send email reminder to MITAOE library users one day before, on the same day and after the due date to remind users about their due date
Display Students achievement on the Central Library notice board to increase visibility of Students achievement.
Send monthly users statistics to all the School deans.