CAREER OPPORTUNITIES IN RENEWABLE ENERGY (SOLAR) SECTOR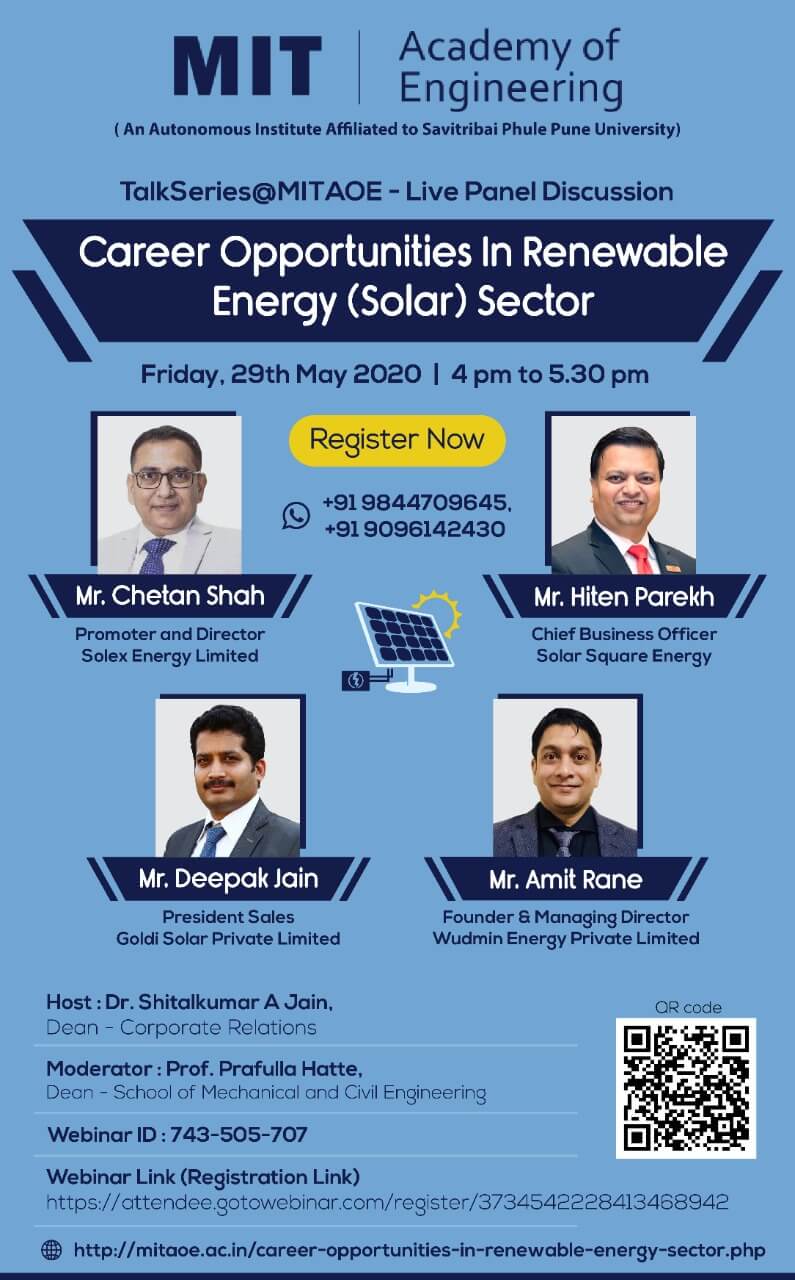 MIT Academy of Engineering, Alandi(D), Pune was established in 1999. The institute offers seven UG programs (BTECH) and three PG programs (MTECH). UGC has conferred the institute with 'Academic Autonomy' in 2016-17, considering the quality of pedagogical practices, skill based, multidisciplinary industry oriented curriculum and the state-of-the-art infrastructure that meets global standards.
The Corporate Relations Office at MITAOE is responsible for bridging the gap between Academia and Industry. The flagship events like TechSeries@MITAOE and TalkSeries@MITAOE are organised in association with industry experts for enhancing the employability index of the students to make them industry ready.
In TalkSeries@MITAOE event, eminent industry people are invited as a panelist from various renowned industries, to discuss the latest technological trends in the industry, different industry requirements and expectations from budding engineers.
Event Date: 29th May 2020
Event Timings: 4pm to 5.30pm
Webinar Link (Registration Link) &nbsp
ABOUT GUEST
Mr. Chetan Shah
Promoter and Director, Solex Energy Limited
Founder and Former Director of Goldi Solar
He belongs to Nemji family which will be completing 100 years in business, building a legacy of trust and goodwill over the decades.
He is the youngest president of "The Southern Gujarat Chamber of Commerce & Industry (2008-2009)". He is in the business of Information Technology Since 1990 (30 yrs)
He was Invited by President Obama administration to discuss on city resilient strategy as a part of "World Habitat Day" celebration in 2009
---
Mr. Deepak Jain
President Sales
Goldi Solar Private Limited
With the wealth of over 13 years in the field of Sales and Marketing and a strong background of Business Development, Mr. Deepak Jain today enjoys a high reputation for his expertise in the Solar Industry and is very well known by the Industry Leaders for his dedication and in-depth knowledge.
Besides a degree in Mechanical Engineering he is an MBA in Marketing from the University of Pune.
He has reached this level and earned recognition due to his caliber for brand creation, networking, leadership, and the ability to find solutions for any complex situation. He is strong at strategy and long term vision in the field of design, development, and marketing of Solar PV Modules as well as EPC.
---
Goldi Solar Private Limited – Company Profile:
Goldi Solar Private Limited is one of the leading solar PV module manufacturing companies with an annual production capacity of 500MW/annum and subsequently aims to scale it up to 1GW/annum by the end of 2020. Goldi Solar modules are exported to more than 20 countries including Germany, Italy, France, Spain, Denmark, Croatia, Turkey, USA, Myanmar, Canada, etc.
Goldi Solar offers Mono, Mono PERC & Poly Crystalline modules for On-Grid & off-grid applications. More information is available on www.goldi.one and corporate AV is available on link http://www.goldi.one/assets/video/Goldi-Solar-Pvt-Ltd.mp4 Goldi Solar PV Modules are certified by all major global accreditation bodies around the world in conformance with IEC, CE Conformity, ISO 9001, ISO 14001, OHSAAS 18001, UL 1703/ UL 61730, DEWA, BIS, etc.
---
Mr. Hiten Parekh
Solar Square Energy
Chief Business Officer
Mr. Parekh has been involved in the solar Industry since 2013 and has executed solar projects around 1300 MW involving ground mounted & rooftop solar. Associated in Leadership roles in Global Business Development with Waaree Energies Limited & SkyPower.
He carries an overall experience of 18 years in global business development. In recent years he has been recognized in the Indian Solar Industry as top 40 leaders under 40 and also amongst the top 100 solar industry leaders in India. He has been with Everest since 2016, heading the Solar Business & recently joined from April 2020, SolarSquare Energy as Chief Business Officer.
---
Mr. Amit Rane
Founder & Managing Director
Wudmin Energy Private Limited
Mr. Amit Rane is the founder and managing director of Wudmin Energy Private Limited - an organization dedicated to educating, nurturing, and creating green entrepreneurs.
He is a passionate energy professional with 18+ years of international experience in energy education, energy consulting, and branding strategy. He has been actively involved in an advisory role at premier organizations like Cummins India Ltd, KPMG, PCMC Smart City, ICT Mumbai, MIT Pune, BNM Educational Institutions, Bangalore for their green initiatives.
He is regularly invited as a guest speaker at IEEE conferences and has organized international energy conferences. Mr. Amit Rane has successfully consulted more than 500 MW of Renewable Energy Projects and he is a Master Trainer with Skill Council for Green Jobs.
He has an MBA in International Business from the University of South Carolina and an undergraduate degree in Electrical Engineering from V.J.T.I, Mumbai University. He was honored with a lean sigma green belt for his inventory management project with Eaton Corporation, USA.
He has traveled extensively and worked with various organizations in the US, Europe, and Asia. His start-up venture in the USA has won the 2011 Computer World Honors Laureate, for using web technology to make a difference to the world.
With Wudmin Energy Private Limited, Amit wishes to make energy education accessible to everyone, irrespective of their geographical location. Creating local entrepreneurs through energy education is a dream that he has been visualizing for a long time.