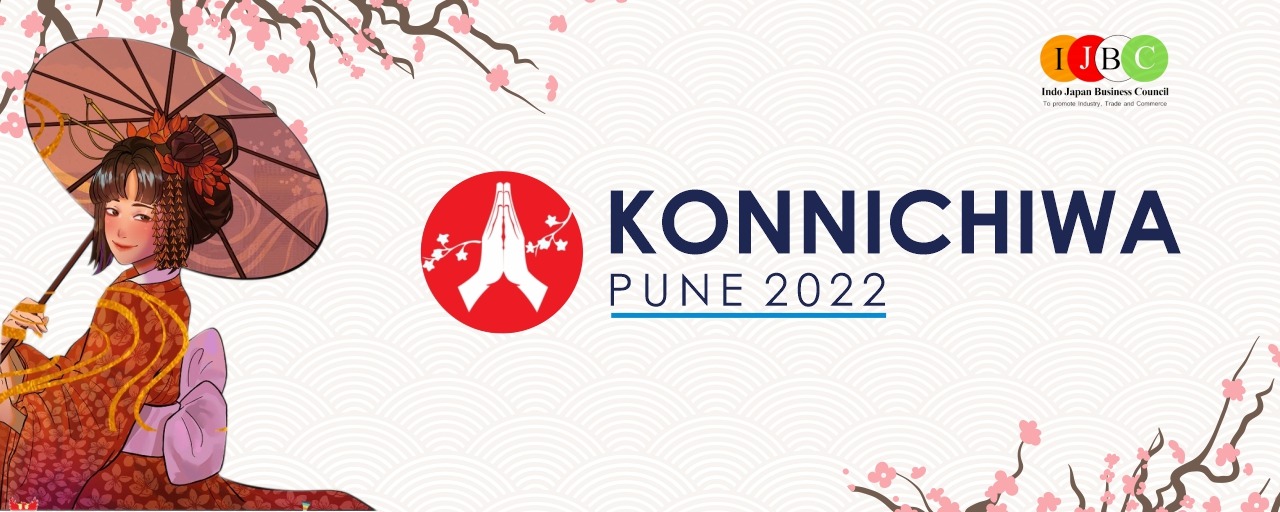 Konnichiwa Pune 2022
Konnichiwa Pune 2022, the signature annual event of the India-Japan Business Council (IJBC), returned with a bang in Pune. The three-day Konnichiwa Pune 2022 event (November 18 to 20th, 2022), which celebrated trade, business, culture, food, music, and people-to-people connections, featured three major components: an India–Japan Business Conference, an India–Japan Education Conference, and an India–Japan Cultural Festival. On November 18, the India-Japan Business Conference took place at the Hotel Sayaji in Pune, on November 19, the India-Japan Education Conference took place at the MCCIA in Pune, and on November 19 and 20, and the India-Japan Cultural Festival took place at Phoenix Marketcity in Pune. It was jointly organised with Hon. Mr. Toshihiro Kaneko, Deputy Chief of Missions Consulate General of Japan in Mumbai.
What is the Konnichiwa Festival?
Since 2018, audiences from all over India, including those in Maharashtra, as well as in Japan, have been anticipating this massive Indo-Japan festival with bated breath. One of the main celebrations the IJBC planned to mark the 70th anniversary of the beginning of diplomatic relations between India and Japan in 2022 is Konnichiwa Pune 2022. IJBC is now present throughout all of India. More than 100 journalists from prestigious magazines were drawn.
According to Siddharth Deshmukh, Co-Founder and President of the Indo-Japan Business Council, Konnichiwa Pune is a three-day celebration. The Festival aspires to connect individuals, organisations, and educational institutions. The goal of Konnichiwa Pune is to foster cordial, festive ties between India and Japan in the areas of trade, culture, and education. The presentations range from corporate challenges to educational and employment prospects to culture.
Konnichiwa Pune 2022: An open invitation that connected us with Japan's people, culture, and economic system.
Students from the MIT Academy of Engineering Foreign Language Club participated in the event and gave performances of traditional Japanese dance and anime song covers, which were spread over two days, demonstrating India's appreciation of Japanese culture and art. Additionally, they set up a booth at the event that was divided into three halves, one of which had a huge anime poster and the other half of which featured a few games with prizes including stickers and poster-sized anime posters.
Japanese performers who had previously appeared in shows in Pune came to the festival to experience the fusion of two different cultures. They gave performances of Indian classical dance and music and also gave lessons in yoga and kimono attire. Colleges, such as MIT WPU and the University of Tokyo, participated in the cultural events and had booths there. Other colleges gave stunning performances of Indian dance forms like Bharatnatyam and Kathak. There were numerous visitors from nations like the United States, South Korea, and China who took part in the festival and activities and chatted with everyone.
Conclusion
In conclusion, the conference gave students, academics, researchers, and decision-makers a platform to discuss opportunities, problems, and possible solutions. Additionally, it supported university collaborations, student exchange, and research and development.
To know more about MITAoE, Stay Tuned To Our Website for Weekly Blogs!