"The price of success is hard work, dedication to the job at hand, and the determination that whether we win or lose, we have applied the best of ourselves to the task at hand."
Vince Lombardi
WHAT IS TED?
TED is a nonprofit organization devoted to "Ideas Worth Spreading". It started out (in 1984) as a conference bringing together people from three worlds: Technology, Entertainment, and Design, since then its scope has become even broader. TEDx events comprise of TEDTalks videos or a combination of live presenters who spark deep conversations and connections with an audience at a specific venue and region around the globe. The intention is for TEDx organizers to select or invite people with certain ideas, projects or successes they believe are worth spreading to the world.

WHAT IS TEDx ?
TEDx events are fully planned and coordinated independently and on a community-by-community basis. Each speaker gets a total of 18 minutes using visual aids if needed, to present their topic or idea, and thereafter the speech is posted on the local TEDx organized event website where people across the globe can tune in for free to listen, comment, be inspired, or challenged by ideas.
WHAT YOU'LL FIND AT OUR TEDx EVENT:
The content and design of each TEDx event is unique and developed independently, but all TEDx events have several features in common
A collection of short & carefully prepared talks, demonstrations and performances (Live or TEDTalks from TED.com)
A wide range of subjects to foster learning, inspiration and wonder
A minimum of two pre-recorded talks from the acclaimed TEDTalks video series
Bias-Free programming: no commercial, religious or political agenda
WHAT IS TEDxMITAOE?
TEDxMITAOE is an independently organized TED event by the students of MIT Academy of Engineering, which aims to bring to its stage ideas worth spreading from all over India. The phenomenal success of the TEDxMITAOE 2020 is a reflection of the ever-increasing dedication and enthusiasm that all the team had displayed on a continual basis.
Theme for the very first edition of TEDxMITAOE was MOMENTUM, is a well thought through culmination of all that we stand for today.
And here we find ourselves at the epitome of curiosity as we intend to hear all about this from the masters of it- our distinguished speakers. Be it any field- social, economic, spiritual or educational, there is only one way with momentum- forward.
TEDxMITAOE 2021
Hailing from the land of rich ancient Sanskrit wisdom, we fathomed that every edge is the beginning of a new horizon that is explorable. The pandemic made the past year lamentable to mankind in numerous ways. It was the end of many things, though it paved the way for limitless things we previously didn't traverse. Ultimately it's time to walk down that aspiring route.
At TEDxMITAOE, we are looking forward to exploring the beauty of new beginnings through the theme for the sophomore edition of TEDxMITAOE – 'PRARAMBH' – Ascend of a New Dawn!
Impelled by the prevailing circumstances and longing for the resurrection of new opportunities, innovations, and ideologies, we have exclusively hand-picked PRARAMBH as our theme for this year.
Be it any field- social, economic, spiritual, or educational, all of us have our own new beginnings and kick-starts in our lies. Here we find ourselves at the epitome of curiosity as we intend to hear all about this from the masters of it- our distinguished speakers.
The non-stop efforts put in by the entire team of TEDxMITAOE are behind the success of TEDxMITAOE PRARAMBH 2021.
OUR 2021 SPEAKERS
Dr. Shabbir Indorewala:
Dr. Shabbir is a veteran Medical Practitioner, an Otolaryngologist, and ENT connoisseur. The talk was based on the new method of surgery that he pioneered, dubbed the 'Stitchless Surgery'.
Harsh & Prachi (Two Tickets To Freedom):
Harsh & Prachi are full-time travel content creators and digital marketing entrepreneurs. They embarked on their own new journey to explore the world, freeing themselves from the 9 to 5 corporate jobs. They live by their motto "Go after your dreams, no matter how big, and seize each day's potential to the fullest".
Abhishek Kar:
Abhishek Kar is an investor, entrepreneur, trader, and consultant. He is also an author, podcaster, and YouTuber. He frequently writes for business magazines. He is one of the most followed writers globally on the subject of financial markets and stock markets on Quora. Imbibed with a firm belief that "merely existing is not living", he has been working hard to prove that nothing is impossible.
Abhay Jere:
Abhay Jere is the Chief Innovation Officer at the Ministry of Education. He is currently building Innovation and Entrepreneurship in the Education Institution. He aspires to create an educational atmosphere where thoughts are not constrained by classroom boundaries. He Aims towards reinventing academia with innovative minds.
Vaishnavi Bhujbal:
Vaishnavi Bhujbal is a boxer, kickboxer, and traveller. She is a World Champion in the kickboxing event held in 2019 in Russia. Over the years, she has bagged 6 national medals and 4 international medals.
Sonalee Kulkarni:
A critically acclaimed actress and an absolutely enchanting dancer, our next speaker "Sonalee Kulkarni", needs no introduction. After pursuing conventional education for a while, she realized her passion for acting and started her career as a model. Featured in more than 25 films in Marathi, her contribution in the upliftment of regional cinema is commendable, she has also starred in various Hindi films and her television characters were widely popular.
PERFORMERS:
Art'tma Muscial
Captain Maharishi
Adarsh Zamwar - Organizer TEDxMITAOE
---
TEDxMITAOE 2020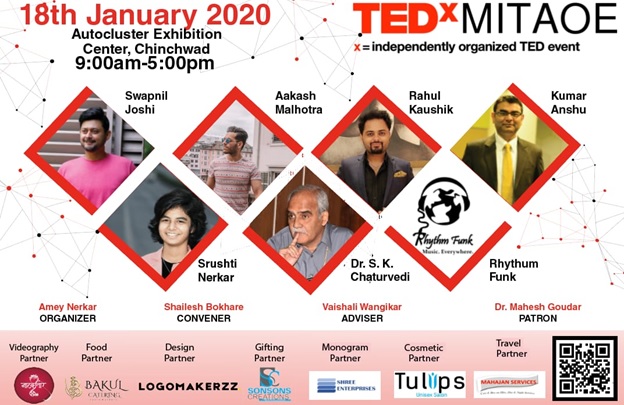 PERFORMERS
Rhythm Funk : International Band playing western music on Indian instruments
Firdous: Band of four budding artists
Team Kashish: Composed of Students of MITAOE and led by our Faculty
Amey Nerkar - Organizer TEDxMITAOE
---
Follow TEDxMITAOE:
Instagram: https://go.tedxmitaoe.com/insta
Facebook: https://go.tedxmitaoe.com/fb
Twitter: https://go.tedxmitaoe.com/twitter
LinkedIn: https://go.tedxmitaoe.com/linkedin
Website: https://tedxmitaoe.com
Email: tedx@mitaoe.ac.in