"We Aspire to Inspire."
WHAT IS TED?
TED, which stands for Technology, Entertainment, and Design, is an annual event that brings together the world's leading thinkers and doers to share their ideas that matter in any discipline — technology, entertainment, design, science, humanities, business, and development. TED is a global community, that welcomes people from every discipline and culture who seek a deeper understanding of the world. We believe passionately in the power of ideas to change attitudes, lives, and, ultimately, the world.

WHAT IS TEDx ?
TEDx is a community initiative, created in the spirit of TED's overall mission to research and discover "ideas worth spreading." TEDx brings the spirit of TED to spark conversation, connection, and community. TEDx events are duly operated under a license from TED where we try and seek to uncover new ideas and to share the latest research in the local areas that spark conversations in our communities with a deep sense of passion and dedication.
What is TEDxMITAOE?
TEDxMITAOE is an independent TEDx event organized at MIT Academy of Engineering, Pune, an autonomous institute affiliated with Savitribai Phule Pune University. This platform was created to promote TED's vision of 'Ideas Worth Spreading', on a community scale. This year at TEDxMITOE we aim to skyrocket to the unexplored limits of our very own personality through our theme "SONIC BOOM".

What will you find at the event?
The content and design of each TEDx event are unique and developed independently, although all TEDx events are based on a standard protocol.
A series of brief and well-prepared talks, demonstrations, and performances (Live or TEDTalks from TED.com)
A diverse spectrum of topics that encourage study, inspiration, and curiosity.
Two pre-recorded presentations from the celebrated TEDTalks video series
Purely idea-centric and inspiring talks - No commercial, religious, or political agenda
TEDxMITAOE 2022-23
Every adventurous new beginning comes with challenges that knock us down, yet pursuing our passion and overcoming hurdles makes us stronger and undefeatable. To truly do something monumental and unveil the finest version of ourselves we need to take risks and look up to the unimaginable. We need to step out of our comfort zone and face our fears. 
Limits like fears are often an illusion. This year at TEDxMITAOE we aim to skyrocket to the unexplored limits of our very own personality through our theme "SONIC BOOM". On our path toward our passion and ideals, we strive to be fearless, grow to be our best, and break down all known boundaries. No excuses, No fears, No limits. 
We intend to spark intriguing conversations here at TEDxMITAOE 22-23 and share the narratives of our illustrious speakers who are epitomes of thinking beyond the box. We yearn to bring to light ideologies and inventions that have proliferated and outshined the rest of the globe.
And who knows? We might accomplish the unfathomable and shock the world, just like Chuck Yeager did in the Bell X-1 on October 14, 1947, when he was the first human to fly faster than the speed of sound!!!
Our Speakers
Amruta Khanvilkar
Marking her versatility in the Marathi and Bollywood industries with movies like 'Katyar Kaljat Ghusli', 'Chandramukhi', 'Raazi', 'Satymev Jayate' and many more, Amruta is a skillful actress and a breathtaking dancer. She has competently participated in various reality shows. 
Gaurav Taori 
Gaurav is the inventor of Rakshak: a self-watering tree guard and deep-root irrigation system protecting the tree and its survival. He is a passionate Entrepreneur and Director at Rainbow Greeners. He has provided innovative solutions and sustainable tree plantations which are the need of the time. 
Dr. Prashant Thakare and Dr. Niraj Ghanwate  
Dr. Prashant and Dr. Niraj are bright professors in the field of Microbiology and Biotechnology. They are patented innovators of a kit for the early detection of Antimicrobial Resistance. They have effectively reduced the time taken for testing the susceptibility of diseases by 70%. 
Madhura Bachal
Madhura Bachal is an accomplished YouTuber, Chef, and Businesswoman who is the heart and soul of the first Marathi youtube channel to have crossed a humongous number of 6 million subscribers. She is the pioneer of Maharashtrian cuisine in the digital world. 
Sharanya Iyer
Offbeat and lively, Sharanya is a Traveler and a radiant Content Creator who has explored more than 26 countries. Moreover, she is a Certified Rescue Diver and a Freediver taking the conversations with the world underwater to a dreamy place. 
Ankit Sharma
Ankit is a brilliant motorsport photographer and videographer who, through his noteworthy work and passion, is giving the world a peek into the awe-inspiring life behind wheels. In addition, he has diligently covered the Dakar Rallies, an exhilarant rally race.
Shreya Jain
Shreya is a harmonic and appealing singer, songwriter, and video producer who has enchanted the audience with her live performance at Wembley Stadium, in London. She made a striking singing debut in Bollywood in the movie 'Attack' released in 2022.
Our Performers
Aishwarya (Hridayam)
Band By The Monkey Head Academy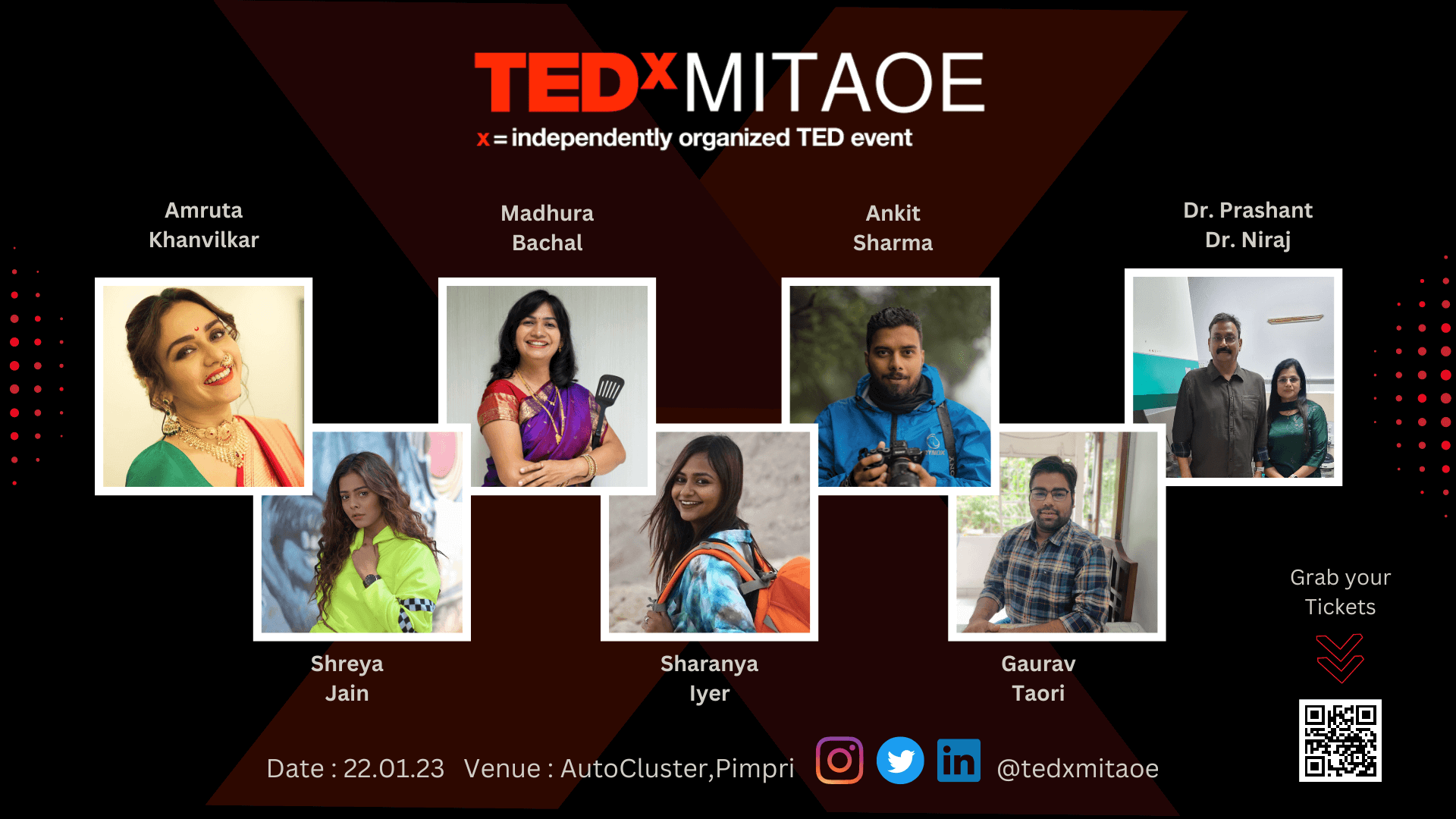 Instagram: https://go.tedxmitaoe.com/insta
Facebook: https://go.tedxmitaoe.com/fb
Twitter: https://go.tedxmitaoe.com/twitter
LinkedIn: https://go.tedxmitaoe.com/linkedin
Website: https://tedxmitaoe.com
Email: tedx@mitaoe.ac.in