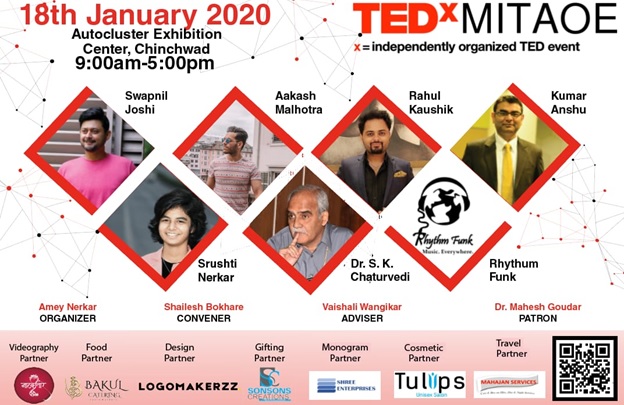 "The price of success is hard work, dedication to the job at hand, and the determination that whether we win or lose, we have applied the best of ourselves to the task at hand."
Vince Lombardi
WHAT IS TED?
TED is a nonprofit organization devoted to "Ideas Worth Spreading". It started out (in 1984) as a conference bringing together people from three worlds: Technology, Entertainment, and Design, since then its scope has become even broader. TEDx events comprise of TEDTalks videos or a combination of live presenters who spark deep conversations and connections with an audience at a specific venue and region around the globe. The intention is for TEDx organizers to select or invite people with certain ideas, projects or successes they believe are worth spreading to the world.

WHAT IS TEDx?
TEDx events are fully planned and coordinated independently and on a community-by-community basis. Each speaker gets a total of 18 minutes using visual aids if needed, to present their topic or idea, and thereafter the speech is posted on the local TEDx organized event website where people across the globe can tune in for free to listen, comment, be inspired, or challenged by ideas.
WHAT YOU'LL FIND AT OUR TEDx EVENT:
The content and design of each TEDx event is unique and developed independently, but all TEDx events have several features in common
A collection of short & carefully prepared talks, demonstrations and performances (Live or TEDTalks from TED.com)
A wide range of subjects to foster learning, inspiration and wonder
A minimum of two pre-recorded talks from the acclaimed TEDTalks video series
Bias-Free programming: no commercial, religious or political agenda
WHAT IS TEDxMITAOE?
TEDxMITAOE is an independently organized TED event by the students of MIT Academy of Engineering, which aims to bring to its stage ideas worth spreading from all over India. The phenomenal success of the TEDxMITAOE 2020 is a reflection of the ever-increasing dedication and enthusiasm that all the team had displayed on a continual basis.
Theme for the very first edition of TEDxMITAOE was MOMENTUM, is a well thought through culmination of all that we stand for today.
And here we find ourselves at the epitome of curiosity as we intend to hear all about this from the masters of it- our distinguished speakers. Be it any field- social, economic, spiritual or educational, there is only one way with momentum- forward.
PERFORMERS
Rhythm Funk : International Band playing western music on Indian instruments
Firdous: Band of four budding artists
Team Kashish: Composed of Students of MITAOE and led by our Faculty
Amey Nerkar - Organizer TEDxMITAOE
Shailesh Bhokare - Convenor, TEDxMITAOE