Title of the Project:
Barriers for Mass Adoption of Ev In Indian Market: A Tism-Micmac Approach
Name of the Students:
| Name | PRN No. | Exam Seat No. |
| --- | --- | --- |
| Takshay Sayre | - | B219041 |
| Yash Deshpande | - | B219079 |
| Keshav Kumar | - | B219063 |
| Divyansh Waghmare | - | B219070 |
Name of the Mentor:
Dr. Surendra Barewar
Abstract:
The increase in greenhouse emission gases due to internal combustion engine vehicles is growing the concern over climate change and with the depletion of natural resources strong economies are looking forward to the adoption of alternative fuel technologies. Electric vehicles are considered to be one of the alternative fuel technologies that can help in reducing greenhouse gases emission. but the adoption of alternative fuel technologies poses different barriers that need to be overcome. This study is targeted towards the identification and analyses of the various barriers and their relationship which obstruct the mass adoption of electric vehicles which are present in India. A total of 14 barriers are identified via experts from the industry, college professors, and literature reviews. To study the relationship between the barriers, the TISM (Total interpretive structural modeling) and MICMAC (impact matric cross-reference multiplication applied to a classification) methods are applied. These methods helped in prioritizing and ranking the barriers in an organized manner. The result brought light to the barriers which pose more concerns over the others. This analytical model would help to identify key barriers which may cause challenges for the mass adoption of EVs in India.
Image of Model/block diagram etc :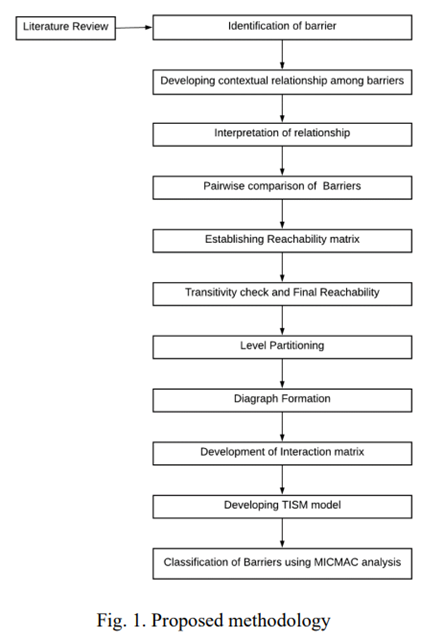 Outcomes/important result:
In this Study key Barriers are identified which can cause major challenges for mass adoption of EVs in India, as an outcome of the study we identified 14 such barriers namely, Lack of charging stations, High Cost of EV, Electric Grid (Load Distribution), Standardization and Codes, Total cost of ownership, Shortage of EV manufacturers, Uncertainty on safety and durability, EV-lack of awareness, Resource Shortage, Performance Characteristics (range and speed), Uncertainty about maintenance cost, service, and repair, Inadequate Government incentives/policy, Resale Anxiety and EV technology. This study identified the mutual relationship of the barriers and their interdependency with the help of TISM as well as MICMAC analyses.
Further By utilizing the TISM and MICMAC approach of analysis hierarchical relationships and structure was made on the basis of levels to rank the barriers on the basis of their driving power and dependence power so that one can understand the significance of each barrier. By using the mentioned methods, it was found that barrier 2 (B2 High cost of EV) and Barrier 10 (B10 Performance Characteristics) are the most crucial Barriers out of all, these two barriers can have a significant negative impact on the mass adoption of EV in India.
Any other information:
The outcomes of this study will help, industrialists, organizations and stakeholders, etc. who want to come into the EV market to understand and focus on various barriers and challenges faced by the EV market in India. By comprehending the given study industrialists, organizations and stakeholders, etc. can focus on the key barriers and try to come up with solutions in their own capacity to overcome these barriers so that mass adoption of EVs in India can happen at a rapid rate as it is the need of the hour.