ONLINE CLASSES/LECTURES CONDUCTED BY MITAOE DURING PANDEMIC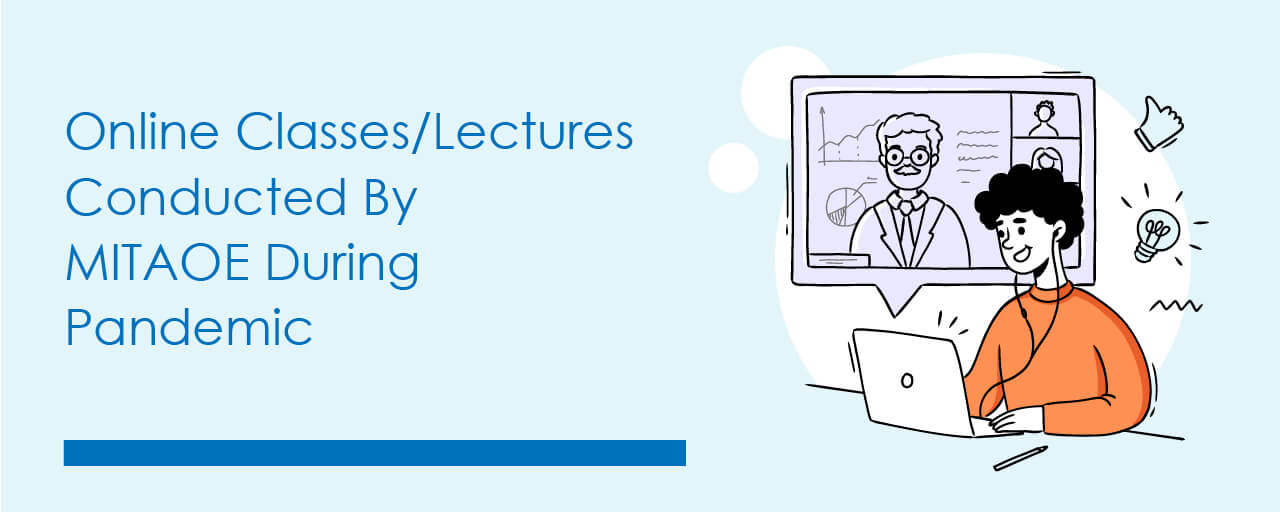 Owing to the outbreak of Covid-19, India, much like most of the world, has restricted almost all activities for the sake of humanity. We all are quarantined in our houses to ensure that things don't go out of hands. This means a restriction on traveling, which further translates to that the students can't attend their regular classes anymore. This results in loss of education during what is usually one of the most active parts of a year for students.
But like it is said, where there is a will, there is a way. We at MIT Academy of Engineering have decided to offer online classes for the students in these testing times to tackle this. We are recognized as one of the top engineering colleges in Pune, offering undergraduate and postgraduate courses in engineering.
The institution was set up as a source of knowledge, and to skill, a student would need to lead a healthy career. A huge number of students have realized their potentials, their dreams, and have shown faith in our institution, and now we lead lives they wished for, built by themselves, with guidance from our great faculties. We feel it unjust for some students to be denied the right to gaining the education they desire. Hence, keeping in mind the national lockdown and the restrictions in gatherings, online classes are an excellent way to keep going the right way. It combines the efficiency of direct, face-to-face explanation by a good lecturer and the solution to the restrictions of movement within the country. Our institute is embedded with multiple advanced facilities, and thus is using them to provide education to students even in the tough times of pandemic. We have conducted approximately 40 live sessions with students from every year and course with a record attendance of 90%.
We respect any and all guidelines laid down by the government for the safety of the people and will try to continue assisting the students while maintaining the rules and regulations. Online classes are a great way for the students to interact with the teachers/lecturers in times like these. Further, it adds to it the comfort and safety of learning from home, while cutting off the time students might otherwise have to consume for traveling from home to the colleges, probably that's why over 11,000 new students registered for these classes.
Our college has one of the best faculty and facilities, who have a lot of experience in the tasks they are assigned. They are equipped with the skills to effectively and efficiently transfer the knowledge they possess to the students, even in online classes. To attend online classes and learn from an expert is a much better way of learning than from researching on the internet, trying to grasp everything spread out in over ten different articles. Online articles can never hit a specificity that a good teacher can. This is why around 5000 students showed interest in these meaningful online classes.
Have a look at graphical representation of 1 week (6th April to 12th April) to be more clear about registrations or attendees during this online sessions: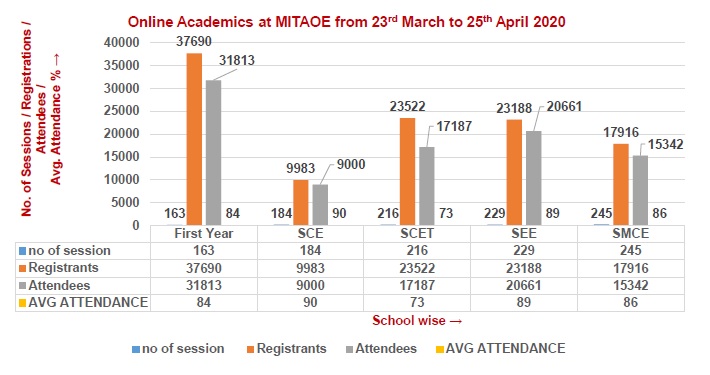 Also here is graphical representation of figures during 23rd March to 7th April: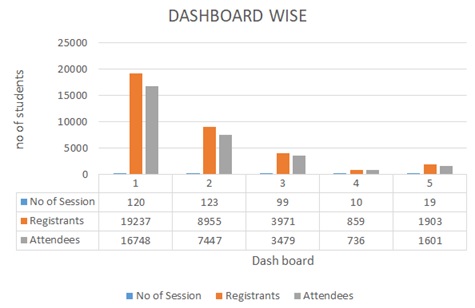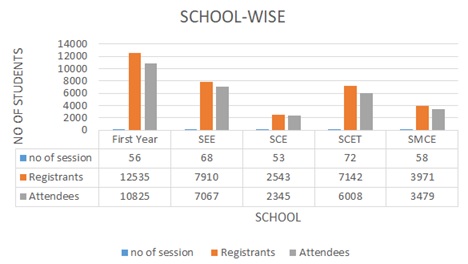 We highly encourage the students to use the time they have in this pandemic to gain education and suggest the classes we will conduct for the same. Our online classes are one of the best medium to get what the student needs, and not let the lockdown interfere with their education.
We are determined to provide the students with the education they require while staying safe in the sensitive and delicate situation the world is stuck in.