ONLINE WEBINAR DEVOPS ENGINEERING CAREER PATH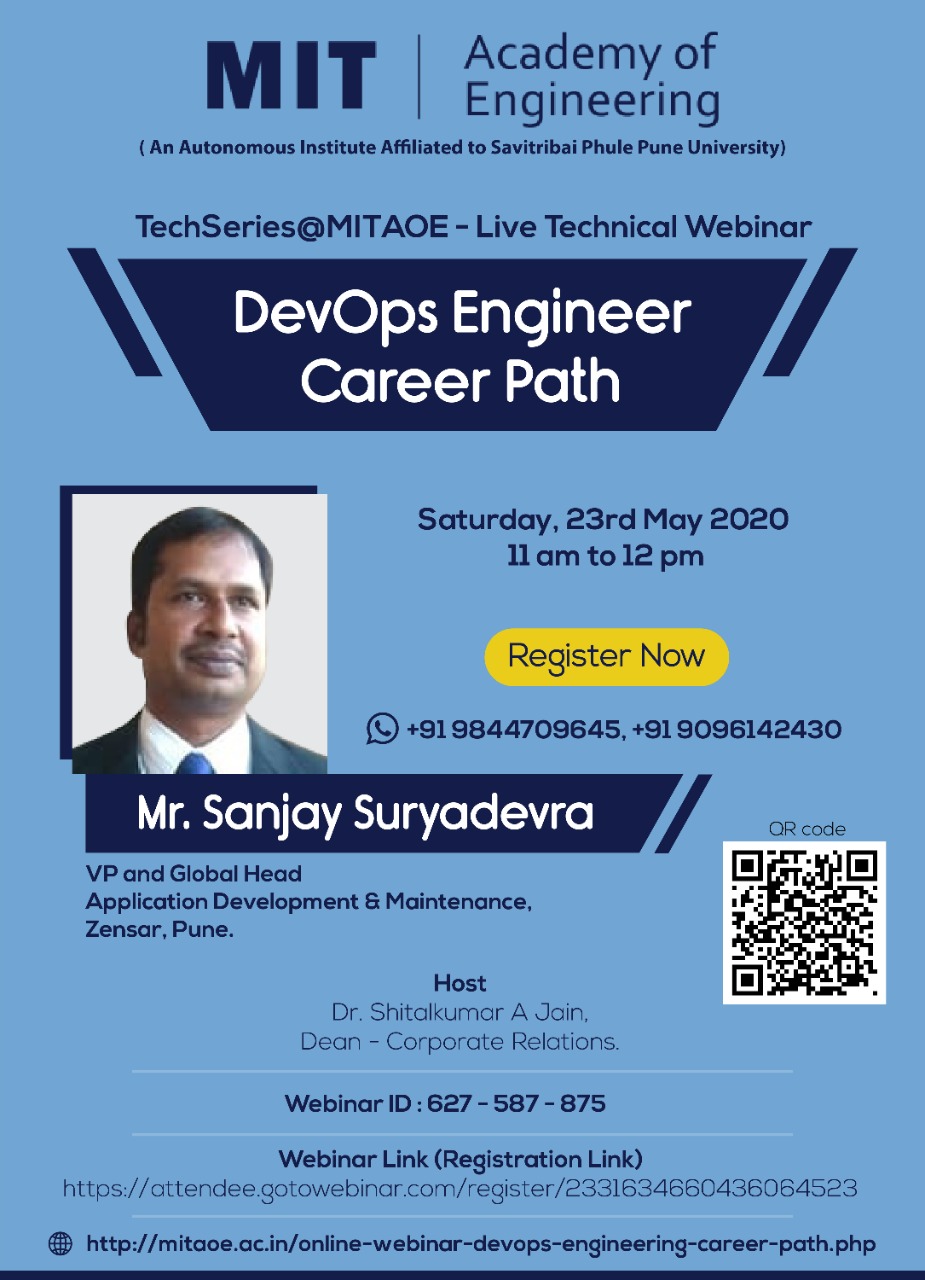 MIT Academy of Engineering, Alandi(D), Pune was established in 1999. The institute offers seven UG programs (BTECH) and three PG programs (MTECH). UGC has conferred the institute with 'Academic Autonomy' in 2016-17, considering the quality of pedagogical practices, skill based, multidisciplinary industry oriented curriculum and the state-of-the-art infrastructure that meets global standards.
The Corporate Relations Office at MITAOE is responsible for bridging the gap between Academia and Industry. The flagship events like TechSeries@MITAOE and TalkSeries@MITAOE are organised in association with industry experts for enhancing the employability index of the students to make them industry ready.
In TechSeries@MITAOE event, technocrats from various renowned industries are invited to speak on the latest technological trends in the industry.
We are very glad to inform you that in this technical series, Mr. Sanjay Suryadevra (VP and Global Head, Zensar, Pune) is going to deliver the technical speech on the topic "DevOps Engineer - Career Path" on Saturday, 23rd May 2020 between 11am to 12pm.
INVITATION FOR A LIVE TECHNICAL WEBINAR
Please find Go to webinar link below.
Click for Reginstration
Webinar ID: 627-587-875
It's a must attend webinar for the engineering students of all the streams.
It's totally free. So Hurry-Up and reserve your seat. Limited seats are available.
For more event details, please contact: 9844709645 / 9096142430
Do share it ! Forward it ! It's a value added session.