ONLINE WEBINAR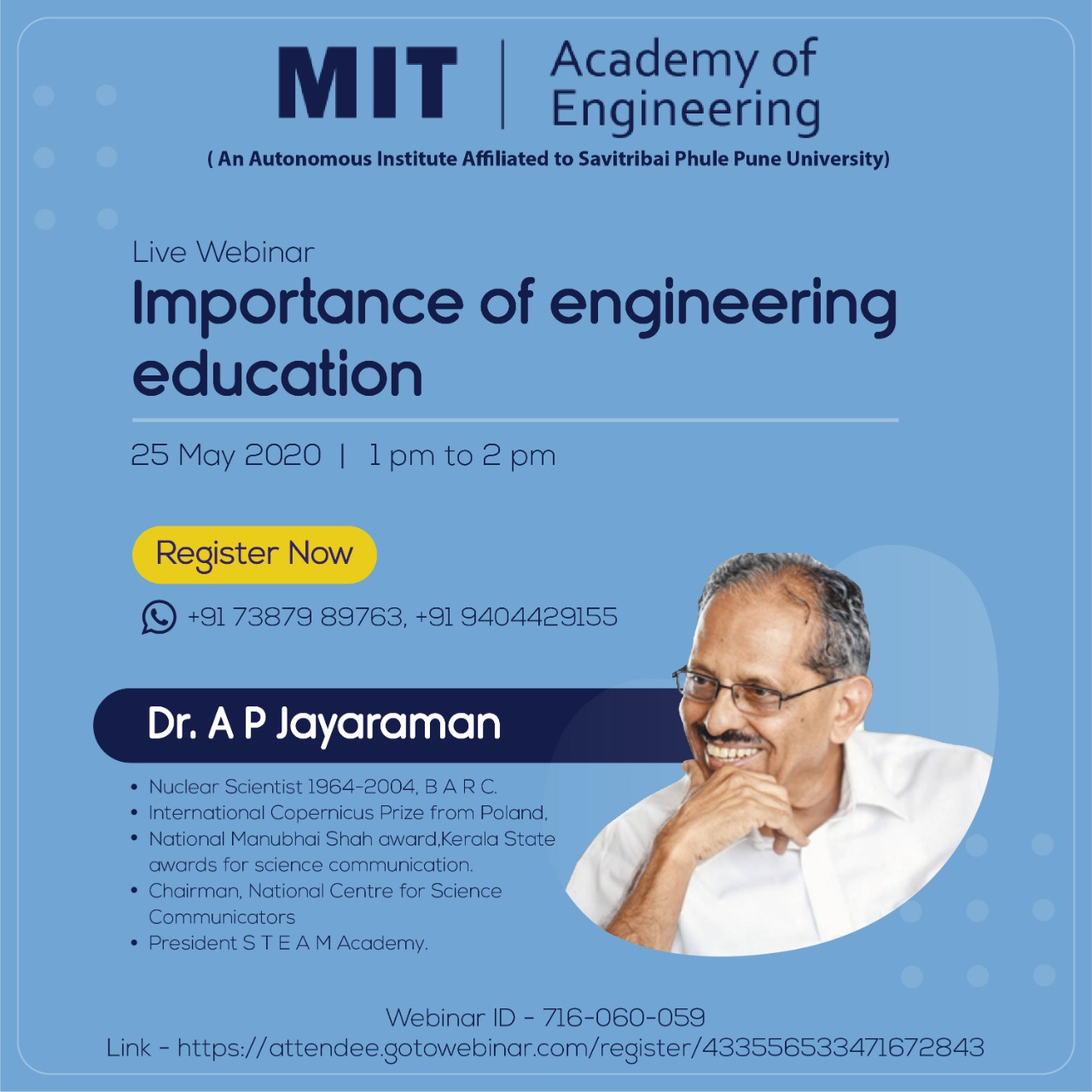 There is a webinar scheduled on 25th May 2020, from 1 pm to 2 pm kindly find the attached flyer. Kindly upload it on the website and give a webinar link to the "Register now" button on the flyer.
Please find Go to webinar link below.
Click for Reginstration
ABOUT SPEAKER
Dr. Jayaraman holds a PhD in science, PGDMM in management, and a diploma in mechanical and electrical engineering. Following academic training as nuclear scientist-engineer, he shifted his focus to re-engineering science education, a project that he is heavily invested in and passionate about.
Over the span of a successful academic career, he has received several accolades including the International Copernicus Award for Science Popularization and numerous national and state awards for his efforts to propagate science communication in India. Dr. Jayaraman was until recently the Academic Dean of and a Teaching Professor in Technology management at the Sadanam Institute of Management Studies, Palakkad, Kerala.
He is also the Vice Chairman of the National Centre for Science Communicators in Mumbai, India, where he created a new genre of Creative Science Literature for Children and introduced science stories in international storytelling conferences. Over the years, Dr. Jayaraman has participated in several workshops and training events for teachers, school children, fellow scientists, and policymakers in India. He has authored 20 science books and over 5,000 journal articles.
GOVERNMENT SERVICE
He started Government of India Service as a Class One Gazetted Officer at the age of twenty two. He graduated from the elite Scientific officers' Training School of famous Bhabha Atomic Research Centre and served the Department of Atomic Energy for forty years. He had an illustrious academic trajectory in science, technology and management. He holds a PhD in Science, a Diploma in Electrical and Mechanical Engineering and a PGDMM in management.
His areas of technical competence include Industrial Toxicology, Health Physics, Radiation Hazards Control, Effluent Engineering, Solid Waste Management, Reverse Osmosis, Desalination Technologies, Media Relations Management and Supply Chain Management. He served in the team of Pokhran experiments. He has worked with top Indian Scientists including Homi Bhabha, MGK Menon, Vikram Sarabhai and A.P.J.Kalam.
He has conducted and attended numerous international and national workshops and seminars. He was keynote speaker and Chief Guest in numerous conferences and educational events.
He had lectured extensively to science teachers and students in the country for creating public understanding of the peaceful uses of Atomic Energy.
After retirement he served as Professor of Environmental Engineering for Griffith University at Singapore Off Campus. He also served as Academic Dean, Sadanam Institute of Management Studies Kerala
NGO SERVICE
Along with a group of Nuclear scientists, fifty years ago he founded Kerala Science Writers Association to popularize science in mother tongue. This brought about total literacy, scientific temperament and high Human development Index in the State. He works in the forefront of Peoples Science Movement in the country. He is the Chairman of the National Centre for Science Communicators and President of STEAM Academy.
In the field of Management education, he served the Indian Institute of materials Management as its Secretary, Treasurer, Vice Chairman and Chairman at Mumbai.
As a Trustee of Indian Development Foundation, he reaches out to students and teachers to create sustained interest in science and to develop scientific temper.
AUTHORSHIP
He has authored fifteen science books and over 5000 science articles and logged over 40,000 conversation hours with students and teachers. His book Naturally Ours was distributed to college libraries by Department of Atomic Energy. His latest Science book is We are 118, the autobiography of chemical elements.
AWARDS
For popularization of science he has won the International Copernicus Award from Poland, National Literacy Prize, National Manubhai Shah Award and two Awards from the Government of Kerala. He was also conferred with the Bhima Award for Children's Literature.
GLOBAL CITIZEN
He claims he is a globalized citizen by a unique experience. While serving as science adviser at Expo 70 in Japan, he spent a day in each of the 120 countries' pavilions eating their food, listening to their cultural ambassadors and attending their performing arts.
Presently his projects are creating international mindedness among students and Theory of Knowledge among Teachers. He specializes in Next Generation Science Standards and PISA model of Singaporean science education.
He is the President of STEAM Academy and the Chairman of the National Centre for Science Communicators.