Constro-2023 Exhibition Visit and Industry Linking
Type of Activity - Collaborative
Coordinator - Dr. Vijay V. Muthekar
Mr. Sitaram G. Suryawanshi
Date - 12th JANUARY – 15th January 2023
Description of Activity conduction
Being a member of Pune Construction Engineering Research Foundation (PCERF), School of Civil Engineering, MITAOE have got an opportunity to be one of the co-sponsors of 'Constro-2023 International Fair' at Pune International Exhibition Convention Centre, Moshi, Pune. PCERF had also offered a complimentary stall to exhibit MITAOE.
As this exhibition is mainly for B-B (Business to Business) interaction, School of Civil Engineering had prepared to grab maximum opportunity to interact with exhibitors for the benefits of students and faculties as well. Accordingly, 26 students showed their willingness to volunteer in the 4-days international fair. All volunteers were allocated specific tasks viz. guiding participants towards auditorium, specific stall, announcement regarding specific instructions, helping exhibiters for demonstration, attending special guests etc. PCERF appreciated volunteers for the help with a memento.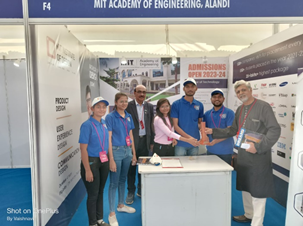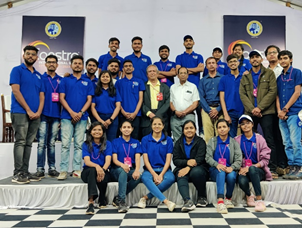 Faculties and students from another department also visited the exhibition. In addition to the construction companies, other construction related industries from sectors like Chemicals, Construction Equipment, Movers, Formwork, decorators, pre-fab, precast manufacturers, consultants etc. were having their stalls in the exhibition. Faculties and students got information about the various contemporary trends in construction industry, various material suppliers, manufacturers etc. In line with the government policies, exhibiters from environmentally sustainable development were also present in the fair.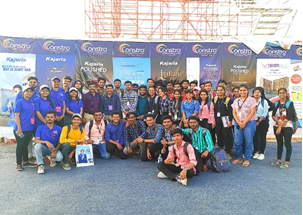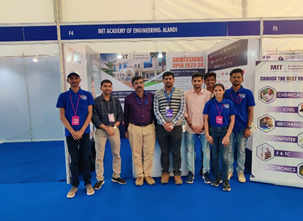 Faculties and students from the School of Civil Engineering got many leads for student internships & placement, research project ideas, material suppliers and opportunity to have an interaction with industry stalwarts. Volunteers and students as well visited enthusiastically to each stall, had an interaction with experts and developed rapport with them for future correspondence. Students and faculties had developed links with many industries for students proposed activities and probable campus placement. To name a few, company connections were:
M/s. Strongtech Engineering Services and Research Pvt. Ltd.
M/s. Buildcon Media.
M/s. UltraTech Cement Ltd.
M/s CSRL – Structural Lab (Pune) Pvt. Ltd.
M/s. SoilTech (India) Pvt. Ltd.
M/s. Sneh Precast Products.
M/s. B. G. Shirke Construction Technology Pvt. Ltd.
M/s. Kalokhe Pipes and Precast
M/s. WTE Infra Projects
M/s. Ashtech Pvt. Ltd.
M/s. Aquarius Engineering Pvt. Ltd
M/s. Faisal Roofing Solution Pvt Ltd
To facilitate maximum students and faculties, School of Civil Engineering had purchased 40 entry passes from PCERF. Additionally, a bus was also hired for students to visit the venue. The passes were also shared with other schools to get benefitted faculties and students from exhibition.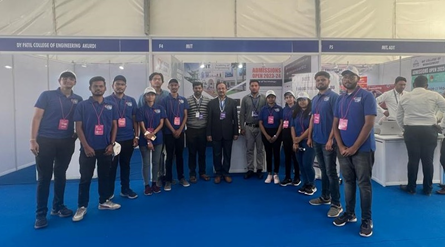 No of Present Students / Faculties
26 students from School of Civil Engineering had volunteered at exhibition (All days during 12-15 January 2023).
Around 100 Students and Faculties from various schools had visited exhibition (during 12-15 January 2023).
Strategy of Implementation and Conduction
Faculties and students were informed about the exhibition Entry passes purchased from PCERF.
A bus was arranged (on 14th January 2023) for visiting students from MITAOE to exhibition ground.
Faculties and students were advised to visit Constro-2023 as per their convenience.
Learning Styles Addressed
All students and faculties were suggested to visit each stall in the exhibition for probable linking with industries for knowledge updation, internships (summer and semester-long as well), resources availability for research work, probable emplyment etc.
SEPTEMBER 2022 ACTIVITY DETAILS OF SMCE MECHANICAL
Guest Lecture on "Watershed Management and Transformation of Hiware Bazar".
Activity:
Guest Lecture on "Watershed Management and Transformation of Hiware Bazar".
Resource Persons:
Padamshree Mr. Popatrao Baguji Pawar.
Date:
15/09/2022 & (2.00 pm to 4.00 pm)
Venue:
D-011
Objectives:
To discuss the importance of water conservation practices
Outcomes:
Students were guided about new trends and technologies in water conservation practices and its importance.
Details:
Attendance (Pdf) signed copy from Coordinator & Dean
Trigger Point:
Discussed the implementation of water conservation practices with students, faculties and alumni.
Level of Event:
Department level
Coordinator:
Co-Coordinators
Mr Khushal Kanade
Ms. Swapnali Mohol
Mr. Nilesh Baglekar
Civil Engineering Forces Team
Attendees:
SY (2022-2023), TY (2022 - 2023), B. Tech (2022-2023)
No of Participants:
103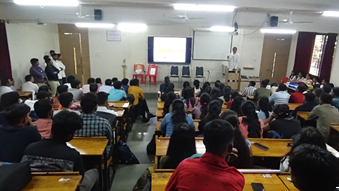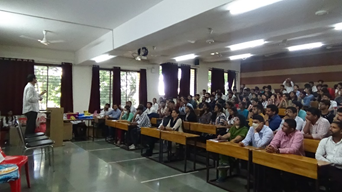 Resource person details.
Padamshree Mr. Popatrao Baguji Pawar.
Popatrao Pawar, who is a farmer sarpanch of Hiware Bazar panchayat in Ahmednagar district of Maharashtra India, has won Padma Shri. Pawar holds the position of Executive Director for the Model Village initiative of the Maharashtra state government. He is recognised with transforming it from a destitute village into a development model that the Maharashtra government wants to emulate throughout the state. Pawar oversaw Hiware Bazar's development from a community that frequently experienced drought to a lush, thriving model village.
MISSION STATEMENT - "To improve and restore soil quality to increase productivity rates, provide access to sanitation, and lessening the effects of natural disasters". Other Achievements of Mr. Popatrao Pawar, He is a Member of National Level Grameen Reform Committee, Tie-ups with Oxford, Stockholm, Tokyo, and London universities for research on water management practices.
Experience: He is Postgraduate, MSc degree holder. He took over as Sarpanch of Hiware Bazaar in 1989 after he ran unopposed.
MAY 2021 ACTIVITY DETAILS OF SMCE MECHANICAL
NPTEL Domain Scholar
Mr. V K Pingale from school of Civil Engineering, had completed NPTEL Domain Scholar certification in STRUCTURAL ANALYSIS domain in civil engineering. He is awarded with this certification in May 2021.
This certification program is started by NPTEL in 2019 in various disciplines of engineering and management. To get this certification one has to fulfill following criteria.
Every domain will comprise 4 Core courses and 2 Elective courses.
The learner has to complete and pass all the core courses listed.
The Final score in any of the courses in a domain should not be < 55.b
Average of all courses in the domain should be >= 60.
It is recommended that the domain be completed within a period of 3 years from the date of starting the first course.
Since July 2019 to Dec 2022, he is the only candidate to complete NPTEL Domain Scholar certification in STRUCTURAL ANALYSIS domain in civil engineering.
REF: https://nptel.ac.in/nptelstars/domainscholars