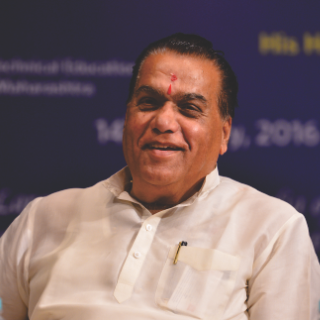 Prof. Dr. Vishwanath D. Karad
Founder, Executive President & Managing Trustee
Maharashtra Academy of Engineering and Educational Research (MAEER), Pune,India
MIT Academy of Engineering (MITAOE), Alandi (D), Pune was founded with an objective to offer value-based and high quality engineering education to the aspiring Indian youth. The institute stands firm on the assertion of Swami Vivekananda that "Union of Science and Spirituality alone will bring peace and harmony to the entire mankind". MITAOE is located at the spiritual place Alandi (D) on the banks of the Indrayani river and offers undergraduate (B.Tech) and postgraduate (M.Tech) engineering programmes. We aim to build the all round personality of each of our students not only by imparting a high quality technical education but also by exposing them to various co, extra and socio-cultural activities. Building characters and thereby winning personalities is the prime mission of the institute.
MITAOE offers a wide range of educational programmes in engineering. As the institute has been bestowed 'academic autonomy' by the University Grants Commission (UGC) recently, our programmes are designed to meet the current requirements in the industry and academia. The syllabi are creative and comprehensive. I am proud to say that MITAOE has developed into an Institute of international repute in the recent times. The institute has inspired and facilitated thousands of students to realize their dreams. Our students are successfully leading their careers in different domains nationally and internationally.
MITAOE has emerged as one of the centres of academic excellence and we seek to reach newer heights of distinction through perseverance of faculty, dedication of students, commitment and cooperation of the alumni of the academy spread all over the globe. This glorious journey is perpetual; students are joining the caravan and parting with it after accomplishing their goals, leaving their impressions. I invite the new aspirants to be a part of this journey with MITAOE. I am sure you will achieve your destinations and reach greater heights in all spheres of life.
With best wishes!