APRIL 2021 ACTIVITY DETAILS OF SMCE MECHANICAL
Mr. Dilip Panchal completed a course name "Excel Skills for Business: Intermediate I" of duration 6 weeks under Coursera.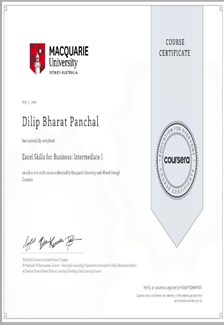 ---
Mrs. Nitasha B. Chaudhari has organized a state level seminar on "Graphalogy- change your handwriting, change your personality" on 4/4/2021 by Dr. Abhijit L. Dandavate.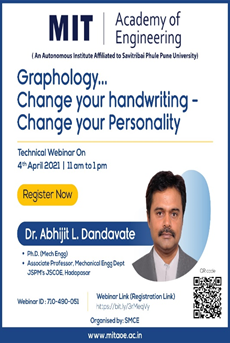 ---
Paper published by Ajit Lokhande, Akash Neharkar, Akash Salunkhe, Rupesh Satpute,Dr. Avinash Kamble, "GSM based Operation System for Agricultural Pumps", Advances in Engineering Design, Lecture Notes in Mechanical Engineering, https://doi.org/10.1007/978-981-33-4684-0_58) pp. 577-584.
---
Paper published by Dr. A. G. Kamble along with A.S. Pendse presented paper on "Optimization of design problems using TLBO and MTLBO algorithms" at the 2nd International Conference on Future Learning Aspects of Mechanical Engineering, Department of Mechanical Engineering, Amity School of Engineering and Technology, Amity, 05-07th August, 2020.
---
Mrs. MAyuri Pokharna successfully completed two months course on "Effective documentation for accreditation" with o grade organized by IQAC Cluster India in collaboration with "White Code" during 12th January to 23rd March 2021.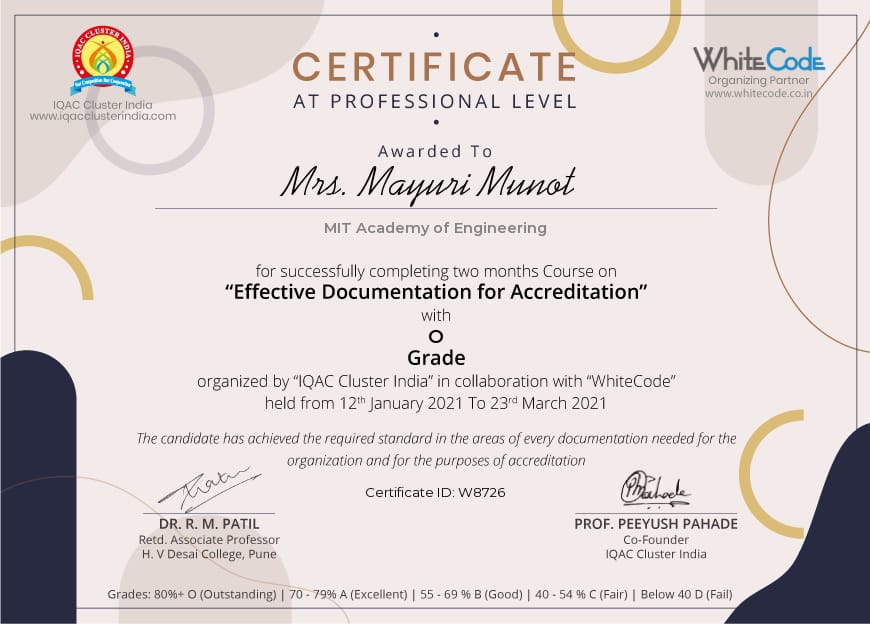 ---
Prof. Nilesh Totla arranged a guest lecture on "Demystifying Cyber space" by the speaker: Dr.Harold DCosta CEO ,Cyber security corporation on Date:28.03.2021 Audience: Students across all schools.
---
Prof. V. N. Deshmukh has arranged a Webinar on "Lean Management" on 31 March 2021 at 2 pm. by the speaker: Dr. Roshen Raju – Kirloskar Institute of Management.
---
Mr. Surendra Barewar joined Mechanical Engineering department on 01 /04/2021.
---
Prof. Ashwin S. Chandore conducted "Training of Autodesk Fusion 360 software for SY Students under Mechanical Prototyping Course (Rapid Prototyping)" during 9th February to 18th March 2021 (3 session each week) with the Expert Mr. Ramesh Pudale, Reginal Head, Autodesk, Banglore Mr. Rohit Chandran R. (Main trainer) Education Engagement Specialist, Autodesk, Bangalore.
---
Under the guidance Prof. Nilesh Totla , Jugal Makam & Saurabh Pawar (M.Tech students), presented research paper at International Conference on Chemical, Mechanical & Environmental Sciences (ICCME 2021) held at KPR Institute of Engineering & Technology, Coimbatore during 25- 26 March 2021.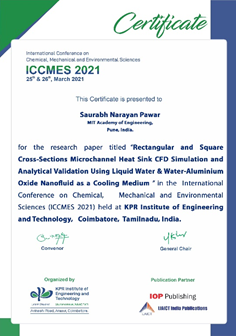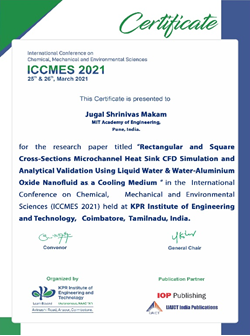 ---
On behalf of the MITAOE Alumni Association, Dr. Pramod Kothmire Institute Alumni Head has requested for help in paying the college fees for one of our poor and needy students for uninterrupted education to all our alumni via the alumni portal. Neha Shah, Amritha Sharma, Shubham Joshi, Avinash Kamble, Biswajeet Patnaik, Shankar Ganesh, Jaspreet Singh, Aayush Deo alumni have willingly contributed in view of paying fees for Ms. Priyanka Shelke, student of First-year Mechanical Engineering. A total of around 53,000 Rs was collected from alumni.
MARCH 2021 ACTIVITY DETAILS FROM SMCE
Prof. MS. A. B. Mane has attended conference on "IPR, PATENTS, COPYRIGHTS, INNOVATIONS & STARTUPS 2020" CIPCIS2020 organized online on February 18-19, 2021.
---
A research paper published on 5/03/2021 by Dr. A.M. Malge, and Mr. P.M. Pawar, (2021), "Wind tunnel and numerical study of multi-storey vertical axis wind turbines with different configurations", Journal of Engineering, Design and Technology, Vol. ahead-of-print No. ahead-of-print. https://doi.org/10.1108/JEDT-09-2020-0360
---
Prof. R K Patil attended 14 days state level workshop on "Li ion battery Technology" organized by MIT Art Design Technology University, Loni kalbhor during 22 Feb to 7 March 2021.
---
Prof. M. P. Joshi has organized webinar on GATE awareness on 14 march 2021 in association with GATE-I2E-Imperial Institute for SY & TY Mechanical students.
---
"National Level One Week FDP on " Dimensional Management as per ASME Y 14.5 1994 & 2009 Standard". 15th-20th March 2021."
1. Prof. Dilip Panchal attended AICTE –ISTE SPONSORED One Week FDP on "Induction/Refresher Program "Mathematical Modelling schedule" during 25/02/2021 to 03/03/2021 organised by Indira college of engineering and Management Parandwadi, Pune.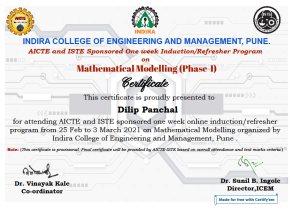 ---
2. Prof. M. M. Charde completed her Ph.D. in Mechanical Engineering titled "Thermal analysis of computer numerical controlled grinding operation with minimum quantity lubrication" under the guidance of Dr Yogesh Bhalerao at Savitribai Phule Pune University.
---
3. Prof. V. P. Kulkarni conducted a session on "Career opportunities after Mechanical Engineering" on 2nd March 2021 for DSY Mechanical students.
FEBRUARY 2021 ACTIVITY DETAILS FROM SMCE
1. Prof. Amit Belvekar along with Tushar Amale, Prajwal Badwaik, Sumedh Durge, Ajay Dube, published a paper as "FEA Approach for Modal Analysis of an Electric Motor in Electric Vehicle Drive " in 2 nd Innovative Product Design and Intelligent Manufacturing systems: National Conference ,Department of Industrial Design & Department of Mechanical Engineering National Institute of Technology, Rourkela Proceedings: Advanced Manufacturing Systems and Innovative Product Design (Scopus indexed Springer lecture notes series), ISBN: 978-981-15-9852-4.
---
2. Prof. A. K. Chandgude has attended a National Webinar on "Digital Transformation and Trends in Modernizing AI & ML Solutions" February 20, 2021 organized in association with Microsoft and CloudThat by MIT Centre for Future Skills Excellence, MIT-ADT University.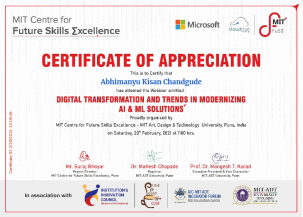 ---
3. Prof. Dilip Panchal has attended National Level e-workshop on Role of Simulation in emerging Technologies during February 16-18, 2021.
---
4. Prof. M. M. Shah has successfully completed Innovation Ambassador Training conducted by MoE's Innovation Cell & AICTE, New Delhi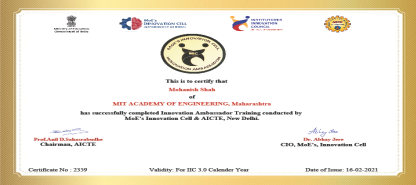 ---
5. Dr. P.S. Kalos has filed two copyrights successfully, title: Inventory carrying Pick and Place Robot.
with Copy Right registration Numbers:
5079/2021-CO/L - 1st Application
5080/2021-CO/L - 2nd Application
ACTIVITIES AND ACHIEVEMENTS
MOU renewed between MITAOE and Auto cluster on 22 Jan 2021.
Internship granted to Aniket Dhanjode (Marketing and Sales) & Mangesh Dobe (Quality) from Unity Group Of Companies with Stipend Rs 5000/- per month.
Dr. P. R. Hatte and Dr. A. G. Kamble, Dr. P.S. Kalos , Mr. R. K. Patil attended the ICT Mode STTP on "Outcome Based Education in the context of Online Teaching" from 14/12/2020 to 17/12/2020.
Dr. A. M. Malge got award of " excellence in community outreach through projects" by ICTIEE 2021
Mr. R. K. Patil attended National Level Workshop on Strategic Issues in IPR and Innovation" during 11 to 16 Jan 2021.
Prof. P. R. Hatte completed his Ph.D in Mechanical Engineering under the guidance of Dr Yogesh Bhalerao at Savitribai Phule Pune University (Research center-MIT Kothrud, Pune).
Prof. P. R. Hatte filed a patent on December 31, 2020 on "Tool for Touchless Operations" with Indian Patent Application No.: 202021057485MSLP and Ref.: MS/MITAOE/PIN-21
Prof. B R Patil Published a Research Paper Entitled "design and simulation of a continuously controlled damper using an electromagnetic actuator" in IJASRET, Volume 6, Issue 1, January 2021 Editor-in-Chief.
The proposal submitted on 26/10/2020 to AICTE under SPICES-Scheme for Promoting Interests, Creativity and Ethics among Students for Auto Sport club by Mrs. Savita Pawar(SEE) and Mr. B. R. Patil (SMCE), amount 1,00,000/- has been provisionally recommended by AICTE.
Prof. A. K. Chandgude attended 5 days national level online FDP on " Research & publication perspective of artificial intelligence" during 21 to 25 Dec 2020, organised by Dept of ENTC, VIIT, Pune
Commander (Dr) Kavikant Mahapatra (Retd) attended an QIP Golden Jubilee Celebration of AICTE on 21 Dec 2020.
Commander (Dr) Kavikant Mahapatra (Retd) attended Webinar on "How to write Quality Research Paper" on 21 Dec 2020.
Dr. P. P. Kothmire arranged an expert lecture on "Why to write a good research paper and organize" which was delivered by Dr. Nilaj Deshmukh on 21 December 2020
Mr. M. M. Shah participated & completed online FDP successfully AICTE Training And Learning (ATAL) Academy Online FDP on "Internet of Things (IoT)" from 2020-12-7 to 2020-12-11 at GUDLAVALLERU ENGINEERING COLLEGE.
Ms. N. B. Chaudhari attended 5 days ATAL FDP at NIT Raipur on "Green Technology and Sustainability Engineering" during 08-12 Dec 2020.
Mr. A. K. Chandgude and Mr. Rahul Kumar Patil has attended national workshop on "web-based plagiarism detection software" organized by MIT ADT University on 15 dec 2020.
Mr. D. B. Panchal, Mr. A.S. Chandore, Mr. S. B. Powar attended "4th National Teachers' Congress" organized by MIT WPU during 14th Dec to 18th Dec 2020.
Prof. P. R. Hatte, Dr. A. M. Malge, Dr. A. G. Kamble, Dr. P.S. Kalos, Dr. K. Mahapatra, Prof. N. B. Totla, Prof. Ms. A.B. Mane, Prof. V. N. Deshmukh, Prof. P. P. Kothmir, Prof. R. S. Jadhav, Prof. B. R. Patil, Prof. Ashwin Chandore, Prof. M. P. Joshi, Prof. A.J. Asalekar, Prof. T. B. Sonawane, Prof. M.S. Dholkawala, Prof. A. K. Chandgude, Prof. V. P. Kulkarni, Prof. R. A. Patil, Prof. A. M. Kolhe, Prof. S. P. Dhavane, Mr. M. W. Bhalwankar, Mr. Amit B. Belvekar, Mr. Rahul Kumar Patil, Mr. Y. L. Maske, Ms. R. K. Shastri, Ms. N.B. Chaudhari, Mr. M. M. Shah, Mr. S.G. Mushan, Dr. V. A. Bhosale attended one week FDP on 'Assessment, Evaluation and Outcome based Education in Online teaching context' organized at Institute during 14th Dec to 17th Dec 2020.