WHAT IS ROTARY ?
Paul Harris founder of Rotary Club, founded in the Chicago (United States) on Feb. 23, 1905. Rotary promote health, peace and prosperity in communities across the globe. It unites people from all continents and cultures who take action to deliver real long term solutions to our world's most persistent issues.
Rotary is made up of three parts :-
I. Local Clubs
II. Rotary International
III. The Rotary Foundaion
What is ROTARACT ?
Rotaract club brings together people from the age 18 and older to exchange their ideas with leaders in the community, it develops leadership qualities and professionalism. In communities worldwide, Rotary and Rotaract members work side by side to take action through service.
SOME GLIMPSES OF ROTARACT CLUB :-
Parent Club RC Pimpri ELITE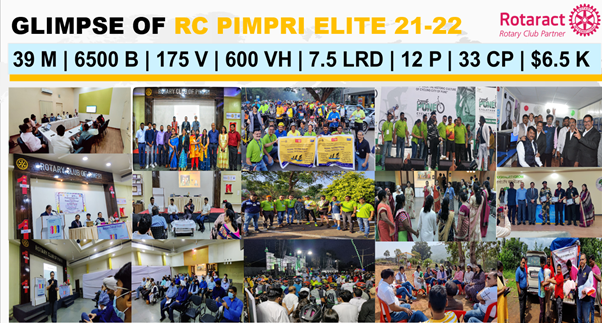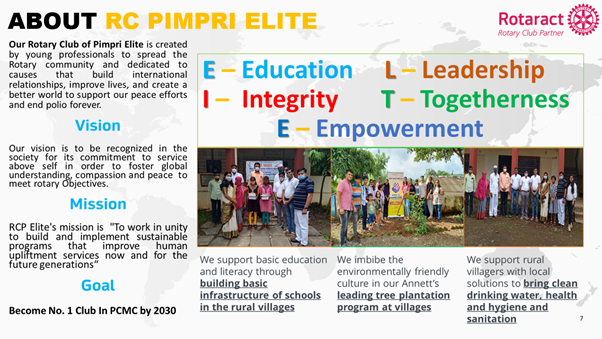 AGENDA OF ROTARACT
Rotary club Meetings are held weekly with focus being on fellowship. That said, there are plenty of news updates and discussion that every member should be kept aware of, and a great way to organiz meetings is with a formal Rotary agenda.
BENEFITS OF ROTARACT FOR MITAOE
This is the first year of Rotaract in MITAOE, as it is an International Organization, there are many benefits for student members.
Personality Growth
Good communication skills
Increase in self confidence
Social interaction
Placement opportunities
Economic knowledge
Leadership Qualities
Interaction with many business tycoons and many industrialists
Decision Making Power
Internship opportunities
FIRST PROGRAM CONDUCTED IN MITAOE
On 21st of April 2022 , Rotary Club of Pimpri Elite organized session on "Introduction to Rotary Club and it's benefits as an Student Engagement Program". Around 70 Students have participated in the session from various streams and classes across. Session was taken by Mr. Ashok D. Shinde (Secretary of Rotary Club of Pimpri Elite). The Introductory speech was given by Mr.Ravindra Bhave Sir (President of Rotary Club of Pimpri Elite). Faculty coordinator Dr . N.B.Totla hosted and coordinated this session.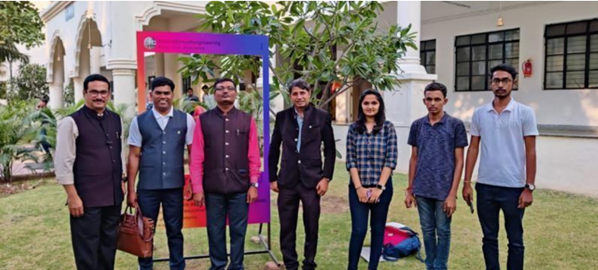 CONSIDERATION
We have received Rotaract Club of MIT Academy of Engineering consideration , and is now a member of ROTARY INTERNATIONAL Which is sponsored by Rotary Club of Pimpri Elite.
CERTIFICATE OF ORGANIZATION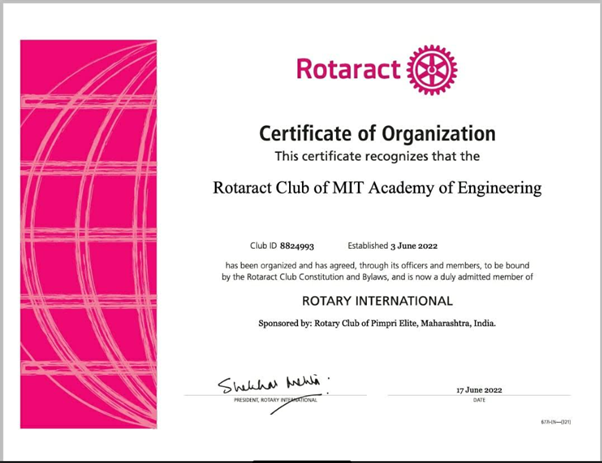 TENTATIVE INSTALLATION CEREMONY DATE
By considering over all conditions Installation Ceremony for Rotaract Club of MIT Academy of Engineering will be conducted in first /second week of August .