GIRLSCRIPT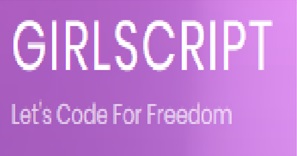 GIRLSCRIPT
GirlScript is a technical community, section-8 company registered under Government of India in 36 cities of India and 3 international chapters.
GirlScript is open for all community & supports diversity and wants to bring equality in technical. GirlScript and its different initiatives are driven by leaders throughout the world.
CONTACT DETAILS
Faculty Advisor : Ms. Shubhangi Kale
MAIL-ID: spkale@comp.maepune.ac.in
OBJECTIVE
To learn technologies in data science, machine learning, artificial intelligence through expert talks, seminars, workshops and Meet Ups.
To build 'Technical Community' specially for Girls Students
GOAL
To help and train them in technical skills and get them technical skills.
To expand our community globally with a vision to help beginners in technology and programming everywhere.
SALIENT FEATURES
Students will learn different technologies
Strengthens the technical skills in data science, machine learning, artificial intelligence
EVENT ORGANIZED
A.Y.2019-2020
| | | | | |
| --- | --- | --- | --- | --- |
| SR. NO. | NAME OF THE ACTIVITY | ORGANISED BY | DATE | PARTICIPATED BY |
| 1. | A two days Bootcamp : LetsPy | GirlScript, Pune | 21st and 22nd September 2019 | 8 teams for Hackathon |
B.Y.2018-2019
| | | | | |
| --- | --- | --- | --- | --- |
| SR. NO. | NAME OF THE ACTIVITY | ORGANISED BY | DATE | PARTICIPATED BY |
| 1. | Hand on TensorFlow | GirlScript, Pune in association with Developer Student Club MITAOE | 30th March 2019 | 80 Participants |
| 2. | Google Cloud Jam | GirlScript, Pune in association with Developer Student Club MITAOE | 13th April 2019 | 100 Participants |