YOGA AND MEDITATION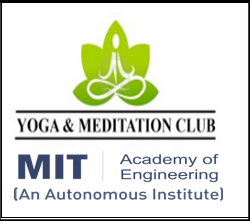 Our goal is to transform Students into responsible citizens of the World, who are – healthy, sharp and spiritually elevated.
Activities under this club will help to spread Peace as it begins with the individual and spreads to environment. With this understanding in mind, various sessions giving exposure to meditation were arranged for students, staff and faculties in the institute.
Various events were conducted under the club which not only entertained but helped to dive deep into oneself.
Faculty Advisor: Ms. Mane Archana Baburao, SMCE
EVENTS ORGANIZED
Musical Meditation for students on college level
Lecture series on chakras for staff
Introduction to meditation session for cleaning staff
Workshop on Sahaj Yoga meditation for staff on college level
SALIENT FEATURES
Yoga and Meditation Club organizes meditation session for all in the institute.