"GOONJ" MUSIC AND SINGING CLUB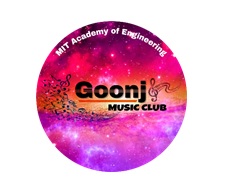 The "GOONJ" Music Club and singing club is a place where students come to jam, learn and make music of different flavours. The club conducts a variety of activities throughout the year. "GOONJ" MUSIC and singing club aims to promote exposure and to increase the confidence of the students on stage. This club helps students to lean a music through an experience also to promote the value of music and the significant role music plays in the lives of the students by providing learning and interactive environment for music enthusiasts to exchange their ideas, and provide the members with opportunities for personal growth and leadership.
Faculty Adviser: Mr. Nikhil B Sardar, SEE
Club President:Mayuri Katare (Singing), mskatare@mitaoe.ac.in, BE Mechanical, (7083789701)
Krishna Dhoot (Music), ksdhoot@mitaoe.ac.in, BE IT, (9423779049)
EVENTS ORGANIZED
Independence Day:
Club celebrates Independence Day by assisting flag hosting at college with a periotic song. Group of ten-twelve members of the club presents a performance right after the flag hosting.
Concert:
"GOONJ" the music and singing club, MITAOE participates in the cultural concert every year with many singing and musical performances which includes solo, duet as well as group performances.
Nakshatra:
The "GOONJ" music and singing club represents the club in NAKSHATRA every year, every students of club participates in NAKSHATRA.