"GOONJ" MUSIC AND SINGING CLUB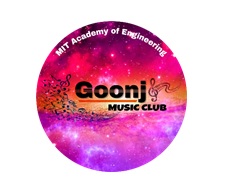 GOONJ is a place where students may jam, learn, and create music from a variety of genres. Club members participate in a wide range of events throughout the year. The goal of the "GOONJ" MUSIC and singing club is to provide students more stage time and exposure while also building their self-esteem.
Also to promote music's significance in people's lives, GOONJ club provides a platform for students to learn about it via hands-on experience, as well as an opportunity for students to develop their leadership skills and personal growth by participation in this club.
Faculty Advisor: Mr. Nikhil B Sardar, SEE
Club President:Mayuri Katare (Singing), mskatare@mitaoe.ac.in, BE Mechanical, (7083789701)
Krishna Dhoot (Music), ksdhoot@mitaoe.ac.in, BE IT, (9423779049)
EVENTS ORGANIZED
Independence Day:
Club celebrates Independence Day by assisting flag hosting at college with a periotic song. Group of ten-twelve members of the club presents a performance right after the flag hosting.
Concert:
"GOONJ" the music and singing club, MITAOE participates in the cultural concert every year with many singing and musical performances which includes solo, duet as well as group performances.
Nakshatra:
The "GOONJ" music and singing club represents the club in NAKSHATRA every year, every students of club participates in NAKSHATRA.