CLUB PRAKRUTI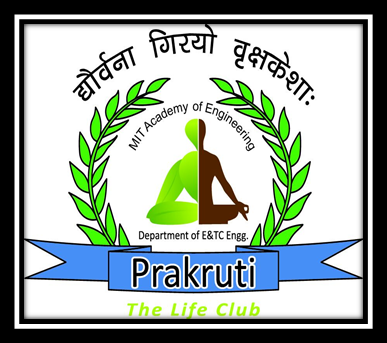 The club aims at providing the member with opportunity to keep physically fit and mentally alert, allowing members to determine their own level of engagement without any coercion. It will provide a simulating environment where the members can learn new skills and share their own and others experience, enjoy life to the full and avoid the risk of isolation.
Faculty Advisor: Ashish Srivastava, SEE
Club President: Saumya Rashu, srmishra@mitaoe.ac.in, TY, SCET (8340451483)
EVENTS ORGANIZED (SINCE INCEPTION )
Empowering Mind, Body, Soul
Indrayani Ghat-Swachata Abhiyan
Ganesh Idol Making Workshop
Donation and Literacy Drive
SALIENT FEATURES
Trekking (Weekends of the semester), Excursion, Social Interaction (Throughout the semester)
Objectives:
To create and foster a spirit of understanding among the members.
To promote the principles of good government and good citizenship.
To unite the club in the bonds of friendship, good fellowship, and mutual understanding.
Outcome:
Socialize with peers, try new activities, and share common interests with others.
Promote friendship
Build social skills