CODECHEF CAMPUS CHAPTER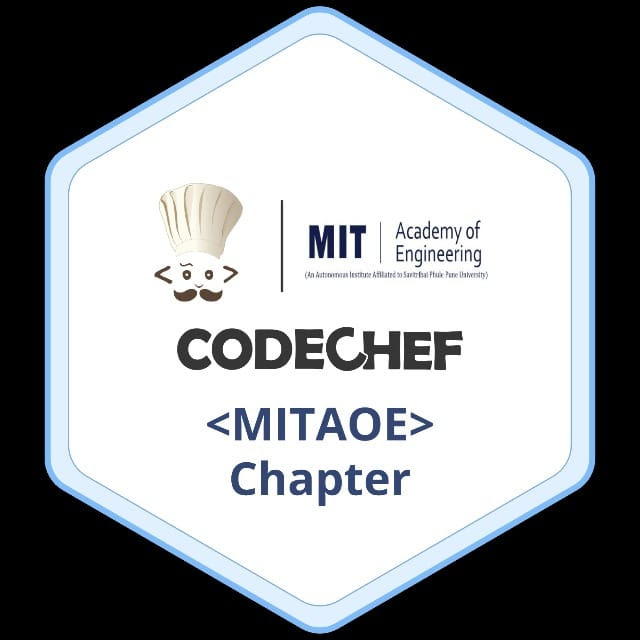 CodeChef Campus Chapters are the programming clubs that are run and maintained by the official campus chapter representatives and are mentored by CodeChef. Campus Chapters aim at promoting competitive programming in various colleges and schools around the world and help students become better problem solvers which go a long way in learning as well as in their career development.
Promoting competitive programming in your college and enhance its culture.
Hosting various contests and competitions
Organizing workshops and doubt-sessions for better learning.
To organize programming contests, workshops, and meetups.
Go back to school and help kids in learning programming.
Codechef Campus Chapter link – https://www.codechef.com/campus_chapter/MITAoE-Chefs
Faculty Advisor: Mr. Jayvant Devare, SCET
Club President: Tushar Desai, ttdesai@mitaoe.ac.in, B.Tech. SCET
| | | |
| --- | --- | --- |
| AWARDS AND ACHIEVEMENT | EVENTS PARTICIPATED | EVENTS ORGANIZED |
| 6 Students got Honorable Mention Certificates | ACM ICPC 2019 World League | ACM ICPC, CodeChef |
| 8 Students got Honorable Mention Certificates | ACM ICPC 2020 World League | ACM ICPC, CodeChef |
| Completed CCDSAP certification | CodeChef Certified Data Structures and Algorithms Programme (CCDSAP) | CodeChef |
| Global Coding Competition | Codechef Battle 2020 | MITAoE Chef Campus Chapter |
| Global Coding Competition | Codechef Campus Chapters Contest 1.0 | MITAoE Chef Campus Chapter |