THE AXES MATHS CLUB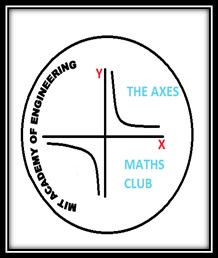 THE AXES, Maths Club of MITAoE, aims to encourage and unleash the talent and skills of the students in the field of logical development. It helps students to sharpen their skills and abilities.
The main motive of this club is to make learning and development a creative task in which each and every student will participate enthusiastically.
The Club organizes various events. Till now various inter-college events have been organized with great success. This helps students of track their performance at a broader level and know where they have to improve.
The final goal of the club is to motivate students to achieve their goals by continuous learning, practice and involvement in various brain-storming activities.
Faculty Coordinator: Mrs. Asha Abhilash, aabhilash@mitaoe.ac.in
Club Presidents:
1. Dhanasree telang ,TY mechanical,dntelang@mitaoe.ac.in
2. Sanket kurai ,TY chemical,svkurai@mitaoe.ac.in
AWARDS AND ACHIEVEMENTS
Won 4th prize in inter-college event "Calcoholics" competition at Army Institute of Technology (AIT)
EVENTS PARTICIPATED
"Drona" held by IIM Indore
National Engineering Olympiad
Present Around The World (PATW) – held in MIT WPD
Debate Elocution organized by Symbiosis Institute of Law and Commerce
Code-Retreat: Annual Coding Event organized by M-Docs
Ethical hacking Workshop organized by COEP – speaker: Sunny Waghela
Data Structures and Algorithms Workshop by Coding Ninjas held in MITAoE
EVENTS EVENTS ORGANIZED
Inter-College competition: "Integradizone" based on Integration.
Event: "Calculus Cluster" based on calculus, limits and algebra.
Guest Lecture on the topic: "Application of Mathematics" by a professor of IIT Kanpur – Dr. Pramod Kumar Bagade
Poster Presentation competition on the topic: "Application of Mathematics".
To celebrate "AajanVriksha Day" (of college magzine) event: "Show Your Skills" based on aptitude.
Inter-College competition: "ALGOMANIA" based on coding. This was held in online mode.
Club organizes all the guest lectures and events related to the field of mathematics, aptitude, and logical reasoning.
We try to encourage and help students to build their skills and confidence.